Gigabyte's line of Aorus memory offer gamers high-speed DDR4 RAM in 16GB 3200 MHz kits and feature the full range of RGB lighting colours and patterns. Gigabyte is set to expand the lineup with new modules featuring Aorus Memory Boost technology.
Two new DDR4 memory kits are being added to Gigabyte's Aorus memory range that will feature a propriety performance enhancement, according to TechPowerUp. The new performance-enhancing feature dubbed Aorus memory boost can be switched on to enable clock frequency and timings profile that is a level above the Intel XMP profile.
The new Aurous Memory Boost feature will be exclusive to Gigabyte Aorus branded motherboards and will require a BIOS update to activate the option. The new memory kits are set to debut with an Intel XMP 2.0 profile with DDR4-3600 specifications, selecting the Aorus Memory Boost toggle will up the Frequency to DDR4-3733, exclusively on Gigabyte Auros motherboards only.
Gigabyte is adding two kits to this new product line, a GP-AR36C18S8K2HU416R kit will offer 2x 8GB (16GB) dual-channel, with an out of the box speed of DDR4-2667, featuring 19-1919-43 timings on Intel platforms and 20-19-19-43 timings for AMD. The Intel XMP 2.0 profile of these modules will be DDR4-3600 with timings of 18-19-19-39.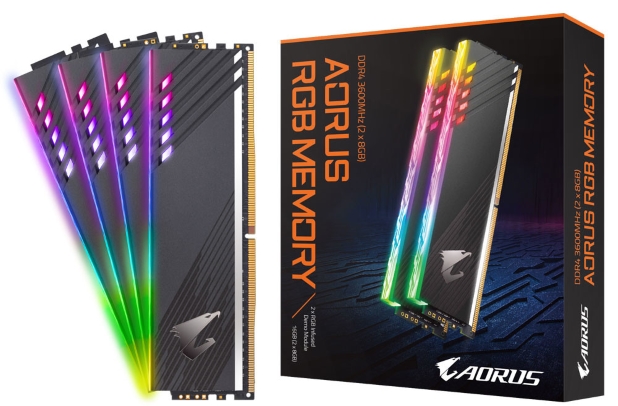 In addition, a GP-AR36C18S8K2HU416RD kit, with the same frequency and timings will feature 2x 8GB (16GB) modules. A  further two dummy modules will be included in the kit to populate vacant DIMM slots. The dummy modules will provide the same looks as the real modules and feature the full RGB  lighting effects too, which could improve the aesthetics of the system.
Voltage of the new Aorus memory kits is 1.2V out of the box, the Intel XMP 2.0 profile boosts the voltage up to 1.35V. The dummy modules will run at whatever voltage is specified in the BIOS and will work with the Gigabyte RGB Fusion software, just like the other modules. Pricing of these new kits are yet to be revealed by Gigabyte.
Discuss on our Facebook page HERE.
KitGuru says: I quite like the idea of these dummy modules to provide improved aesthetics, just as long as they are priced accordingly. I guess the Aorus Memory Boost option is Gigabyte's way of rewarding consumers for brand loyalty. What do you guys think about this idea?