TeamGroup has announced the availability of its T-Force Vulcan Z and Dark Z gaming memory in large single stick capacities. From today TeamGroup's T-Force Vulcan Z and Dark Z DDR4 gaming memory will be available in single modules of 32 GB capacity in single-channel and dual-channel kits.
The new 32 GB Vulcan Z and Dark Z memory is available in both DDR4-2666 and DDR4-3000 frequencies to offer high speed and high capacity memory modules for gamers, as well as for multitasking workloads such as content creation or video editing, compatible with both Intel and AMD consumer platforms. One-click overclocking is also supported via the O.C Profile to easily overclock without the need for any manual adjustment.
Vulcan Z and Dark Z are already a popular choice among gamers and power users, now that they are available in 32 GB modules means users will have the ability to upgrade systems with high speed, high capacity DDR4 memory. Up to a total of 128 GB in dual channel systems and a huge 256 GB configuration will be possible in quad-channel high-end desktop systems.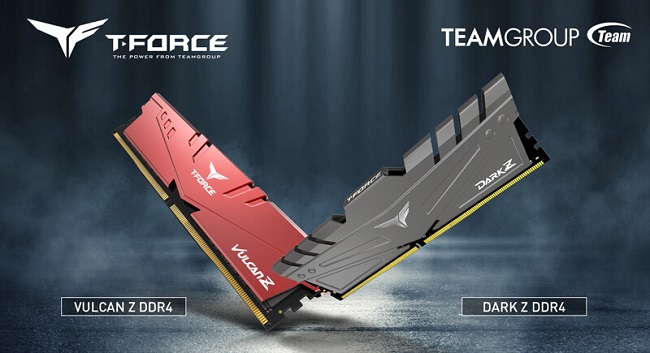 New 32 GB Vulcan Z modules will launch in either single-channel or dual-channel kits (32 GB x2) with the choice of either DDR4-2666 or DDR4-3000 frequency, while the Dark Z 32 GB series will mainly be available in dual channel (32 GB x2) kits at DDR4-3000 frequency. This gives consumers the option to choose which kit specification best suit their personal requirements.
Like all of TeamGroup's T-Force gaming memory, the new 32 GB Vulcan Z and Dark Z are subject to a rigorous testing procedure to ensure performance, stability and compatibility on all AMD and Intel consumer-grade platforms to offer top quality, optimal performance and compatibility. Pricing and availability are still to be announced by TeamGroup.
Discuss on our Facebook page HERE.
KitGuru says: More 32 GB DDR4 memory modules are slowly filtering into the market which will be welcomed by owners of high-end desktop systems looking for more choice of high-density memory kits. What do you guys think of these new 32 GB modules from TeamGroup?