Toshiba has announced it will launch its second generation of NAND flash memory products, featuring increased performance and capacity, while offering support for high-speed data transfer rates.
Toshiba's second generation of NAND flash memory products for embedded systems will be compatible with the widely used Serial Peripheral Interface (SPI). According to Toshiba, the new NAND memory will be suited to a wide range of consumer, industrial and communication applications.
With communication and Internet of Things (IOT) devices getting smaller all the time, demand for smaller NAND packages with large capacity that can handle high-speed transfer rates is increasing rapidly. Toshiba's new Serial Peripheral Interface products can be utilised as Single-Level Cell (SLC) NAND featuring a low pin count in a small package with large capacity.
Toshiba's new second-generation Serial Interface NAND offers improved performance compared with existing generations, including 133 MHz operating frequency and a program X4 mode in order to support high-speed data transfer rates. In addition, an 8 Gbit device has been included in the range to meet demands for higher capacity memory.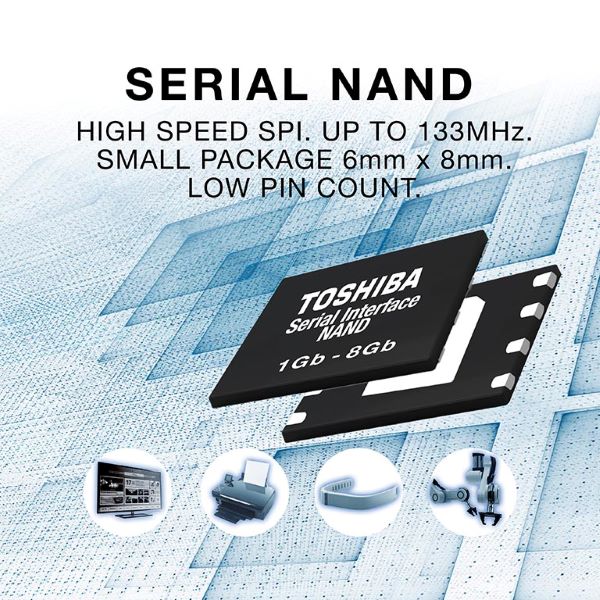 The entire range from Toshiba is offered in an 8-pin small outline package (WSON) with dimensions of 6mm x 8mm. The new NAND packages are available in sizes from 1-8 Gbit capacities with a 2kB and 4kB page size for more efficient read and write.
Other features include a 4x program and read modes for high-speed programming and access, ECC and data protection to detect bit flips and provide protection of defined blocks. Furthermore, the packages include parameter page function for detailed information of the device.
Toshiba has already started shipping samples of the new NAND with mass shipments expected to begin in October.
KitGuru says: With NAND flash memory common in so many devices these days, the demand is high. It is great to see manufacturers improving the technology, which in turn will improve the capabilities of our devices.