Most PCs, laptops and tablets use just a few gigabytes of memory and even the average gaming PC sports just eight gigabytes according to the Steam hardware survey. But there are people out there that want more than that: the uber-high-end enthusiasts, renderers and heavy photo editors. It's for them that G.Skill's new DDR4 kit was made. Offering 64GB of space and an impressive 3,200MHz clock speed, it's a monstrous set of sticks.
Each module features a full 16GB of memory, built using high-performance Samsung ICs. They feature timings of CL14-14-14-35, despite the impressive bandwidth of the kit.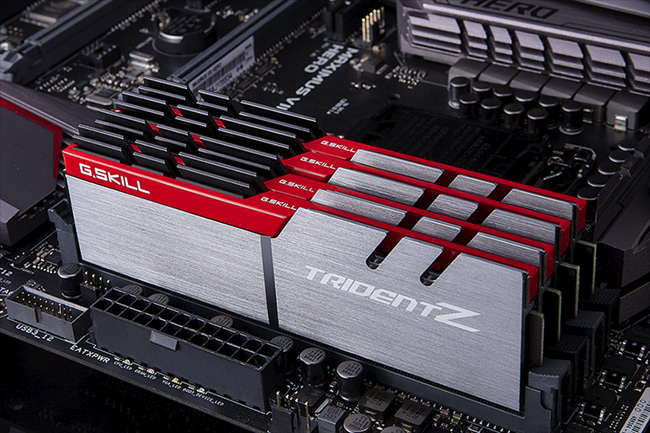 TridentZ: The only Trident that everyone wants to upgrade to
There will be smaller variants for those that don't quite need a full 64GB of RAM, with some 8GB DIMM alternatives. Those 16GB and 32GB kits will feature the same high bandwidth, low latency specifications of the larger 16GB modules selection. All of them however support XMP 2.0 standards, to make them fully compatible with the new generation of Skylake hardware and their associated Z170 chipsets.
G.Skill is promising that the new DDR4 kits will utilise the existing Trident Z brand name and will be sold alongside existing products in that same line, as well as the Ripjaws V family of memory kits. They will also be made available before Christmas. No pricing information was released for either the larger of smaller versions however.
Discuss on our Facebook page, HERE.
KitGuru Says: I've been running 8GB for a couple of years and haven't seen much reason to upgrade just yet. How about the rest of you though? Do you have tens of gigabytes at this point?