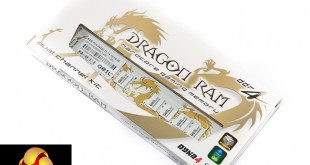 DDR4 memory has made its way to the mainstream with the introduction of Skylake and the Z170 platform, however many buyers were not happy with the operating latencies of some DDR4 kits. Raw memory speeds for DDR4 kits are typically higher than those of DDR3 predecessors, however the timings can be significantly higher. GeIL aims to address the balance of speed and latency with a dual-channel DDR4 kit that operates at 3GHz CL14.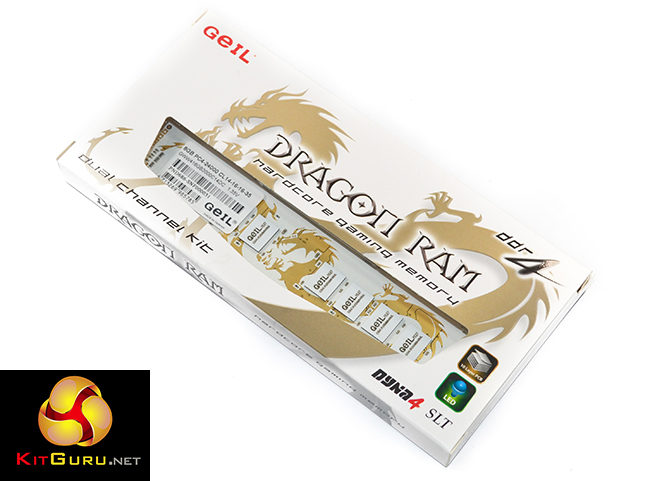 One of the simplest ways to differentiate your offering in the saturated memory market is through styling. GeIL does exactly that by giving the 'White' Dragon RAM 3000MHz CL14 DDR4 sticks a white and gold colour scheme and blue LEDs. This even goes as far as giving each of the individual memory chips a white covering on kits with 2800MHz and above operating speeds.
GeIL supplies the Dragon RAM memory in dual- and quad-channel DDR4 offerings, with operating speeds as high as 3866MHz, or 3000MHz for high-capacity 16GB DIMMs.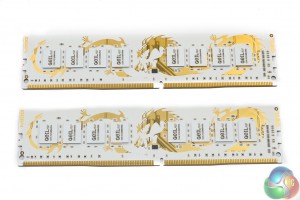 Unique is the first word that springs to mind when looking at the white Dragon RAM sticks. I must admit that I am quite fond of the frosty white PCB and the bright contrast of the gold dragon graphic.
Even for the fastest kits that GeIL ships, the highest DRAM voltage applied is 1.35V. As such, the vendor has decided that metal heatspreaders are not required, instead opting for a bare PCB and memory chips. And in all honesty, this is unlikely to cause any cooling concerns with the exception of the DIMMs being densely packed together in a hot environment (basically, not a consumer system).
Let's not forget that adding a heatspreader to the sticks would mask the unique white and gold colour scheme. Opting for a 10-layer white PCB and gold graphic will actually add cost to the memory kit as green PCBs are generally cheaper to produce/procure.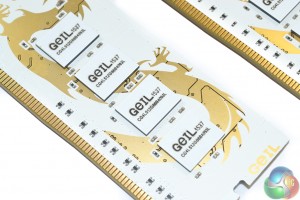 Eight memory chips on each side of the PCB form the 8GB capacity for each DIMM in our 16GB test kit. GeIL has informed us that the memory ICs are manufactured by SK Hynix. The GeIL CG4L512G88BA093L chip marking is in fact a sticker on top of the SK Hynix ICs.
GeIL uses a screening process that uses a DYNA4 SLT machine in order to test memory ICs for appropriate operating characteristics and then bin them accordingly.
The frosty white PCBs aren't the exact same shade of white as Asus' X99 or Z170 motherboards. With that said, other vendors' white motherboards (namely Gigabyte's) may be a better colour match for the sticks. And I can imagine that the frosty white PCB and shiny gold graphic would look at home in MSI's Z170A XPower Titanium motherboard.
The blue LEDs may appeal to some buyers, however they also have the potential to completely ruin the appearance for others. If your system has a red colour scheme, for example, the blue LEDs will be an awful contrast. I would have liked to see GeIL including an option to disable the LEDs completely. Alternatively the RAM vendor could have deployed three LEDs in red, green, and blue colouring and allowed a user to choose their preference with a manual selection switch.
The bare PCB design of GeIL's sticks is ideal for minimising CPU cooler interference issues.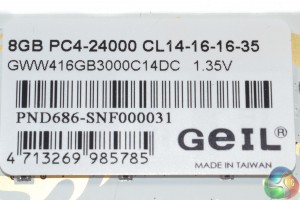 Specifications:
Model Number: GWW416GB3000C14DC.
Frequency: 3000MHz (PC4-24000).
Timings: 14-16-16-35.
Voltage: 1.35V.
Dual Channel Kit: 16GB (2x 8GB).
XMP 2.0 Ready.
Lifetime Warranty.