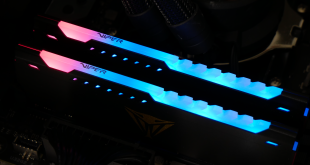 Patriot is upgrading its popular Viper Steel series of memory to include RGB lighting, as is seemingly expected from every PC component in 2021. Featuring a black aluminium heatspreader with a top-mounted set of RGB LEDs and a diffuser lightbar, can the Patriot Viper Steel RGB memory prove to be a solid new option to the market?
Watch the video via our VIMEO Channel (Below) or over on YouTube at 4K HERE
The Patriot Viper Steel RGB memory module follows the same no-nonsense design logic of the standard non-RGB version of the RAM. Now, however, the aluminium heatspreader has been switched to a matte appearance with a grain-type texture while the Viper logo is coloured gold.
While the 'Steel' naming scheme now makes less sense given the black appearance, I personally feel that these styling adjustments are a good transition in creating a more attractive memory module. The black heatspreader looks sleek alongside the black PCB and, of course, retains it cooling functionality given the use of aluminium material.
Across the top of the roughly 48mm-tall memory module sits the RGB lightbar. This retains the aggressive angular styling of the non-RGB Viper Steel modules, but the height is now around 3mm taller for the LED-equipped kit.
It is difficult to tell exactly how many RGB LEDs sit underneath the lightbar. And that is a particularly important point given the perceived smoothness of the emitted light. Similarities to the light diffuser strip on the Corsair Vengeance RGB Pro modules are evident, and that's strong praise for Patriot.
Lighting control is handled through the sync utilities of the big four motherboard vendors. We tested with ASUS AURA and found the functionality to be straightforward and effective. The lighting speed is good, the brightness is positive, and the granularity of control is solid.
Colour accuracy for the lightbar is also positive overall, though we did notice that our white colour selection displayed a slightly off-white tint. Other than that, I was also happy with the transitions between colours in the go-to RGB rainbow puke mode.
In terms of modules specs, Patriot offers a variety of options. The kit that we have for testing is a 32GB (2x16GB) capacity set with rated specifications of 3600MHz at 20-26-26-46 timings and 1.35V. Of course, XMP 2.0 is supported.
Those timings are incredibly slack for a modern 3600MHz dual channel memory kit, so it will be interesting to see if we are able to overclock to some tighter numbers. Of course, 3600MHz is still ideal for simple 1:1 memory controller to Infinity Fabric clock operation on AMD platforms. And any additional frequency through overclocking will be welcomed by Ryzen 5000 users with higher FCLK capabilities.
The specific memory chips used read as Hynix H5AN8G8N??R-VKC according to Thaiphoon Burner. That pair of question marks makes it unclear, but our contacts at Patriot confirmed that the kit uses SK Hynix "AFR" memory ICs with model code H5AN8G8NAFR-VKC. Those chips are deployed in a dual-rank configuration for each of the 16GB DIMMs.
Worth noting is that neither monitoring software such as HWiNFO nor Thaiphoon Burner could register any thermal sensor data on our test system.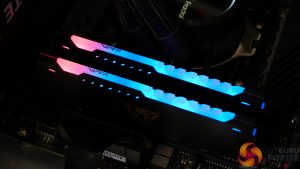 In summary, we are looking at the Viper RGB Steel as a 32GB kit with a solid RGB implementation, 3600MHz running frequency and slack timings, and a price tag of £164.99 MSRP. Let's have a look at how Patriot's new set of memory performs.
Model Number: PVSR432G360C0K
Capacity: 32GB (2x 16GB)
Rated Frequency: DDR4-3600MHz
Rated Timings: 20-26-26-46
Voltage: 1.35V
Format: Non-ECC Unbuffered 288-pin DIMM
Be sure to check out our sponsors store EKWB here