The Viper Steel RGB memory kit is a good addition to Patriot's Viper Gaming series memory line. You get an aesthetically pleasing design with a good RGB lightbar implementation.
I am actually quite positive overall on the RGB lighting implementation. In my opinion, the colour accuracy is good – with the exception of a clear white – and the lighting uniformity is respectable given the angular lightbar implementation. Personally, the fact that the lightbar is reasonably sized and not overpowering adds to the quality of styling for the Viper Steel RGB modules. But, of course, that is my own personal taste.
The kit worked fine with ASUS AURA RGB software and had no trouble managing a variety of lighting modes and flashing speeds. Of course, the design and implementation of the RGB lighting will be down to individual preference. However, I can see clear comparisons to Corsair's Vengeance RGB Pro memory modules, and that is reasonable praise for Patriot.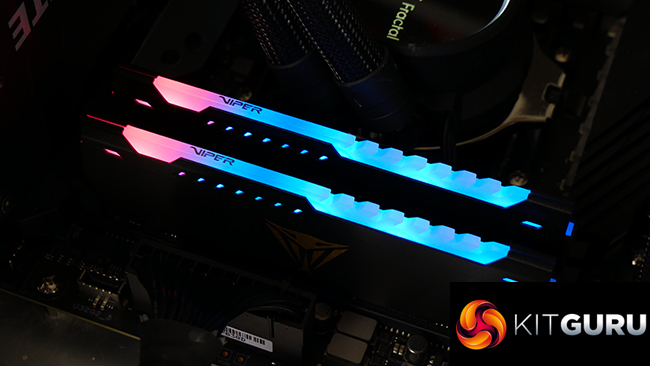 Undeniable, however, is that stock performance leaves a little to be desired given the incredibly slack timings for a 3600MHz 2x16GB kit. 20-26-26-46 really is quite slow indeed, especially as the kit uses respectable Hynix AFR memory ICs rather than budget brand alternatives.
We did manage to overclock successfully past 4GHz with tightened timings, or to 3800MHz running CL16. This used 1.45V, so is not directly comparable to many 1.35V XMP kits on sale. However, it does imply that there is solid headroom available from the Hynix ICs based on our test kit.
The performance from the Hynix ICs in a dual-rank configuration allowed the Viper Steel RGB kit to outperform the standard Viper Steel SpecTek-based 64GB kit on our test system. However, Micron E-die-based modules at a marginally higher price point – such as Crucial's Ballistix that can offer around 3600MHz CL16 to CL18 – will tend to perform better. And you should not expect Samsung B-die levels of latency tightening performance either.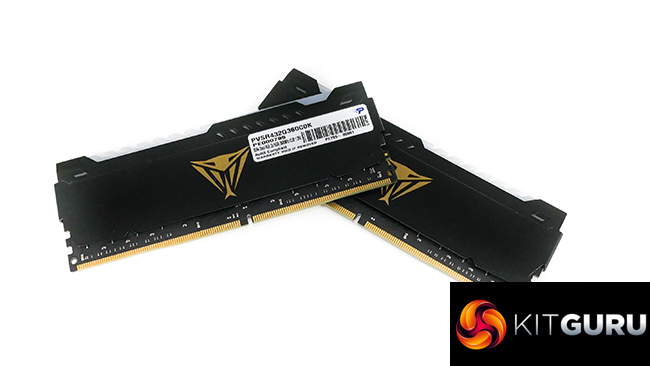 Pricing looks to be a sticking point at the moment for the Viper Steel RGB kit, though. At £164.99 MSRP, the 2x16GB 3600MHz 20-26-26-46 kit from Patriot is going up against 3600MHz RGB kits from pretty much all other vendors including Corsair, Kingston, G.SKILL, TeamGroup, KLEVV, and ADATA. In fact, many of those aforementioned vendors have their 3600MHz CL18 32GB kits on sale for around £10-20 cheaper at UK e-tailers. Corsair's Vengeance RGB Pro, for example, which is 2x16GB 3600MHz 18-22-22-42 retails at £149.99 and that is a tough contender for Patriot's £164.99 looser latency modules to fight against.
Current MSRP pricing looks to be on the high side, but it will be important to see if UK retailers make Patriot's Viper Steel RGB modules available for a similar price point to the competition. If the current US price point of $155 is anything to go buy, Patriot's Viper Steel RGB modules will slightly undercut the primary competition and this will make up for the slacker timings. If that is the case, the Viper Steel RGB kit will can be worthy of shortlisting.
Overall, Patriot has done a good job with the RGB implementation of the Viper Steel RGB modules. The matte black aluminium heatspreader looks great and it nicely compliments the well-built RGB LED lightbar. The stock timings are lacklustre; however, the overclocking performance was more positive than we expected for the Hynix AFR ICs on our kit.
We don't yet have a buy link for this kit but have been told the UK MSRP is £164.99.
Discuss on our Facebook page HERE.
Pros:
Sleek aesthetic design.
Good RGB LED brightness and smoothness through the lightbar.
Solid overclocking performance for our kit.
Reasonable module dimensions – not too overpowering.
Aluminium heatspreader should aid module cooling.
Cons:
Very loose out of the box XMP timings.
MSRP will give stiff competition versus tighter latency kits.
KitGuru says: A sleek design with a good, no-nonsense RGB implementation and solid overclocking capability. Let's hope that the UK street price allows Patriot's Viper Steel RGB modules to be competitive in light of the slack XMP timings.

Be sure to check out our sponsors store EKWB here