RAM prices have been in a constant state of flux over the last few years. Most of the time, picking up a 3000MHz+ 16GB kit will set you back close to, if not more than £200 here in the UK. Fortunately, memory pricing is predicted to be coming down over the next couple of years and evidence of that already seems to be surfacing.
Right now on Amazon UK, there are some very good deals going around on DDR4 RAM kits. The G.Skill Trident Z 3200MHz 16GB kit for instance is currently down to £134.39. Meanwhile, Corsair's Vengeance Pro 3200MHz RGB ram kit is sitting at just over £150. Kingston's HyperX Fury 16GB 2400MHz kit is currently £118. Plenty of other kits on Amazon are also going for fairly cheap, so it is worth shopping around a bit.
The situation isn't exactly the same at other stores, but Overclockers UK does have a few good deals too. The Vulcan T-Force 8GB DDR4 kit is £55, while the 16GB equivalent is £99.95. Kingston's HyperX Predator RGB 16GB 3200MHz kit is £150 and finally, Team Group Dark Pro Edition 16GB 3200MHz kit is £170.
These prices are subject to change at any point, but it does lend some credence to a report earlier in the year. Back in July, we heard that increased competition in the memory market would lead to an oversupply in 2019, which will cause prices to come down. A quick look at PCpartpicker's price tracker shows that things are trending downwards: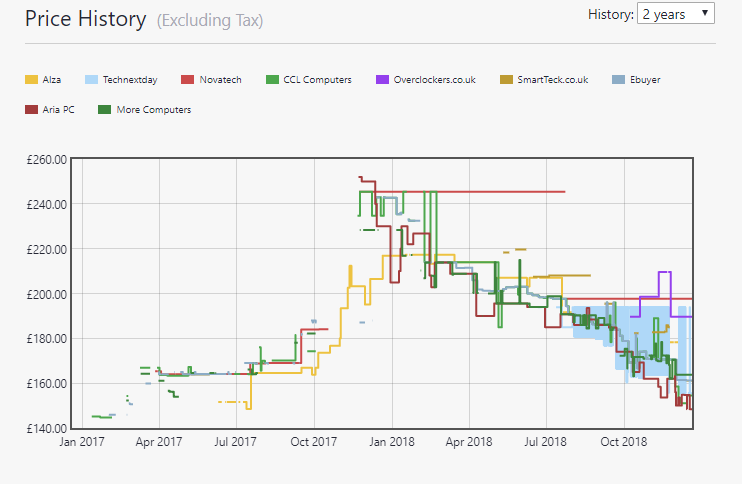 Over the last couple of years there has been a mysterious supply/demand issue in the RAM space, which has led to prices remaining high but it looks like consumers may finally catch a break.
KitGuru Says: RAM prices seem to be pretty good right now if you shop around. I must admit that I'm tempted to pick up a Trident Z RGB kit myself. Hopefully these prices remain for more than just a few weeks. Are any of you looking to get a RAM upgrade?