G.Skill is teaming up with MSI to deliver co-branded Trident Z Maverik DDR4 member kits as part of MSI's MPG Gaming Maverik bundle. Offering speeds up to 3600MHz and capacities up to 32GB, the Trident Z Maverik memory kits aim to be "the ideal companion" for high-end gaming on the Intel Z590 platform. 
G.Skill and MSI have worked together in the past, often teaming up to push the boundaries of extreme memory speeds. Trident Z Maverik memory has a few visual differences compared to standard G.Skill Trident Z RGB memory, for starters, MPG Maverik and Trident Z Maverik branding is present on the heatsink, in addition to both of G.Skill and MSI's logos on the RGB light bar.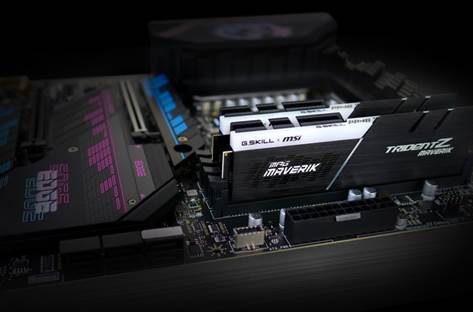 G.Skill and MSI's co-branded memory kits won't be available as a standalone product. Instead, this is an exclusive component for the MSI MPG Gaming Maverik bundle, which includes a CPU, memory, motherboard, case and liquid cooler.
Specifically, the Maverik bundle includes an Intel Core i7-11700K, 32GB Trident Z Maverik DDR4-3600 memory (16GBx2), an MPG Z590 Gaming Edge WiFi SP motherboard, an MPG Velox 100P Airflow SP case and an MPG CoreLiquid K360 SP all-in-one liquid cooler with a customisable OLED display on the CPU block.
Unfortunately, pricing and availability for this bundle has not been announced yet but we'll update this story once we have those details.
KitGuru Says: We still need to learn how much this costs, but on paper, the MSI MPG Gaming Maverik bundle is looking great and would be a good foundation for a new gaming PC build.