Asrock has announced two mainboards with USB 3.1 interconnection technologies. The motherboards will support Intel Corp.'s processors and will add USB 3.1 connectors using add-in-cards. It is unclear whether the boards will be sold separately to add USB 3.1 support to older systems.
The family of Asrock's mainboards with USB 3.1 includes two models: the Z97 Extreme6/3.1 and the X99 Extreme 6/3.1, which support Intel processors in LGA1150 and LGA2011-3 form-factors, respectively. Both motherboards feature sophisticated voltage regulation modules to provide advanced overclocking capabilities, they also support for multi-GPU configurations as well as offer rich input/output capabilities.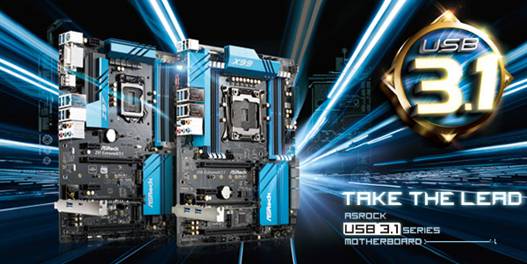 The add-in USB 3.1 card for the Asrock Z97 Extreme6/3.1 supports 10Gb/s transfer rates and requires a PCI Express 2.0 x4 slot and a power connector to operate. The card features one type-A (regular) and one type-C (reversible) connectors to ensure compatibility with all USB 3.1 implementations.
The USB 3.1 card for the Asrock X99 Extreme6/3.1 has the same features and requirements, but has two type-A connectors. The motherboard itself supports one USB 3.1 type-C connector.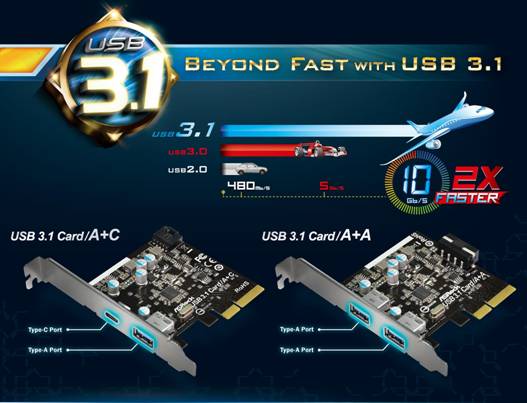 It is believed that both add-in-cards use an Asmedia USB 3.1 controller.
It is unknown when the new mainboards hit the market, but expect them to arrive shortly. Since currently implementation of the USB 3.1 requires additional chips, expect platforms with the new interconnection to cost noticeably more than regular motherboards without the SuperSpeed+ USB 3.1.
Check out KitGuru's hands-on preview of the USB 3.1 in MSI's implementation HERE.
Discuss on our Facebook page, HERE.
KitGuru Says: The implementation of USB 3.1 using add-on cards does not seem to be very optimal, but at present it is the easiest and the most affordable way of adding the USB 3.1. Therefore, expect mainboard makers and some PC suppliers to adopt it.