One of the coolest rumoured features of Intel's next-gen chipset mainboards is the ability to get OCZ Revo type speeds for small, affordable SSD units. Asrock and Plextor have a next-gen demo at CeBIT 2014 and there's no Intel in sight.
To say that SATA has been holding SSD back is a bit like saying that wind resistance spoils the fun of free fall parachuting. It's still damn quick!
That said, we all know that tomorrow's demands will fast outstrip today's technologies, so we all need one eye on the future.
With SSD, the quantum leap is the interface. The connection method between the mainboard and the drive.
Sure companies like OCZ pioneered the PCI-Express connection of SSD with products like Revo, but that performance comes at a pretty serious price.
What KitGuru has seen at CeBIT 2014 is truly impressive.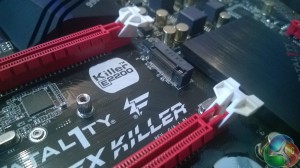 Asrock included the special connector on its Fatal1ty FX990 AMD chipset board a while ago, but it's only now that companies like Plextor are delivering the SSD products that will take advantage of the connector.
So how fast is it?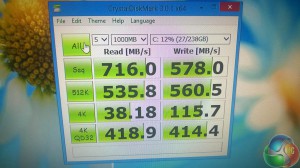 Well the PCI Express card version of the M6 was seen touching 770MB/sec in some CrystalDiskMark tests and the new interface version (which simply pushes flat onto the mainboard) scored around 715MB/sec.
That something that looks like the inside of a USB Pen Drive can score past 700MB/sec is nothing short of amazing.
KitGuru says: With Maarten from Plextor telling us that the target price for the new format M6 is just under £1 per GB, the future is looking quite tasty.