Biostar has joined a number of motherboard manufacturers with the release of its new Z270GT9 board, adding full support for the seventh generation of Intel's core processors. But that's not all, the new board also comes with support for 10GbE LAN, has M.2 cooling and a new digital power controller for better overclocking stability.
With the Kaby Lake processors now officially launched and the reviews in – read ours here – motherboard makers are of course announcing their readiness, as even if the reviews don't paint the new-generation as a performance king, there will still be plenty of people looking to upgrade.
Biostar has made itself ready with the new Z270GT9 which adds some interesting features to try and separate it from the crowd. Firstly it comes with M.2 cooling, which adds a heatsink which cools SSDs connected to the M.2 slot. Alongside the M.2 slot, this board comes complete with support for U.2 32Gbps connectors too.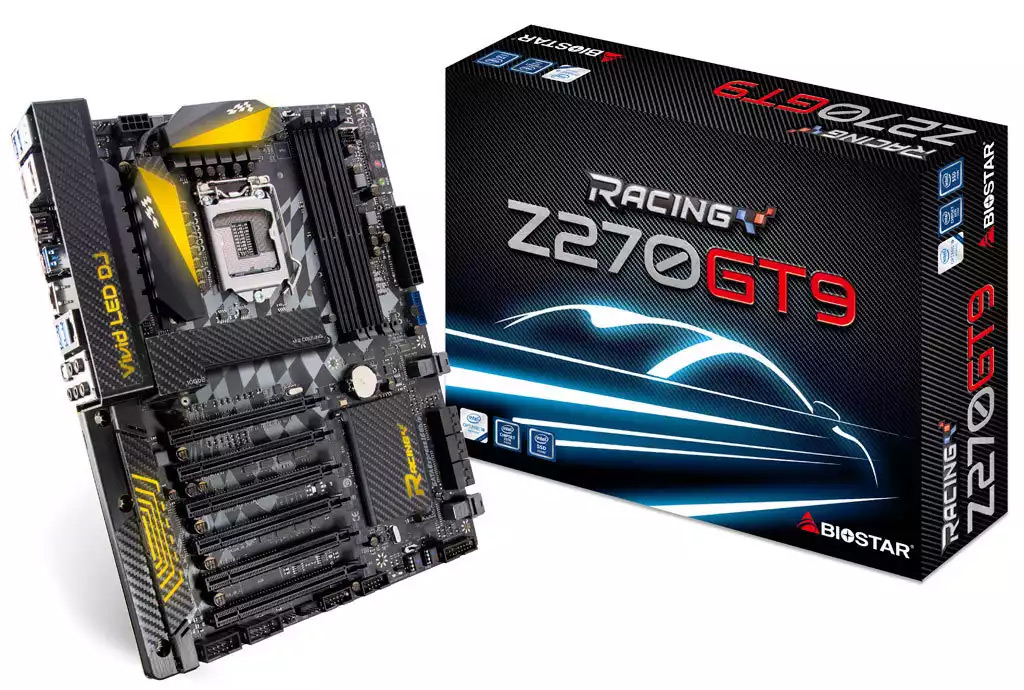 It also has 10GbE LAN support, offering transfer speeds across local networks at up to 10 times the speed of traditional GbE LAN connections.
The use of a digital power controller is said to give the board extreme stability during overclocking and helps maintain cool temperatures when under load. There's also a Lightning Charger, which helps speed up the charging of connected devices like smartphones and tablets, purportedly making it so they hit full charge in just half an hour.
Along with support for four DDR4 sticks up to 3,600MHz, the new board comes complete with twin USB 3.1 ports (type A and C), six USB 3.0 ports and a further four USB 2.0 ports.
Launched under the 'Racing' moniker, this motherboard will be available for $400 (£325) and will come with a Intel 600P 256GB M.2 SSD.
Discuss on our Facebook page, HERE.
KitGuru Says: Any Biostar fans among you? It's a brand that doesn't get quite as much recognition as some of the bigger names, but it's been in the game a long time.