The Gigabyte Aorus AX370-Gaming 5 is a well-balanced motherboard that offers superb fan control capabilities, an excellent RGB LED system, and a strong variety of connectivity for its £205 asking price.
Benchmark results on the Gaming 5 put it at slight performance deficit against higher-priced competitors from ASUS and MSI. The differences are minor but they are present and indicate that Gigabyte still needs to provide further BIOS revisions for this new platform. Bugs that we experienced when checking some of the OS-based software tools re-iterate that point.
With that said, overall stability must be highlighted as a positive for Gigabyte. We had far less hassle simply getting things to work on the Gaming 5 compared to ASUS' ROG C6H that seemed to battle against us in a variety of scenarios. I don't recall clearing the CMOS throughout testing with Gigabyte's Gaming 5, which is more than can be said for what sometimes seemed to be my favourite button on ASUS' higher-priced offering.

Minor early teething issues aside, a well-balanced feature set is where the Aorus AX370-Gaming 5 shows its worth. The motherboard is equipped with 32Gbps PCIe 3.0 x4 NVMe SSD capability in M.2 and U.2 form, though only one can be used at a time. There are also four 10Gbps USB 3.1 Gen 2 ports on the rear IO that can be used without the need for a chassis with compatibility for the new front panel USB 3.1 interface. With that said, the internal 10Gbps USB 3.1 Gen 2 header will be sorely missed when the chassis market catches up.
Connectivity in the form of networking is bolstered by the addition of a Killer E2500 GbE NIC alongside the popular Intel I211AT chipset. While this may be a little wasteful to many users as teaming is not supported, it does provide networking redundancy and it gives buyers the opportunity to test their preferred solution for themselves.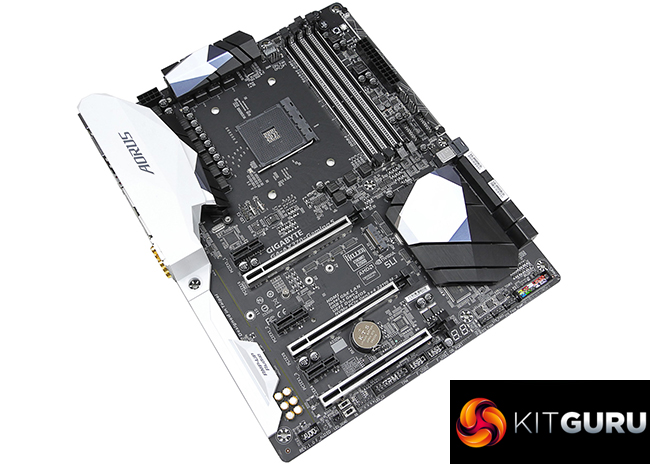 Onboard RGB lighting is a strength for the Gaming 5. While the six individual zones cannot be controlled individually, they are significantly brighter and clearer than the RGB LED solution for ASUS' more expensive ROG Crosshair VI Hero. The 5-pin RGBW and 4-pin RGB strip headers can be controlled separately from the motherboard. Gigabyte's RGB Fusion software offers a variety of operating modes and even has a UEFI-level control interface.
The Aorus AX370-Gaming 5 motherboard's fan control and temperature sensing capabilities are clear positives. Smart Fan 5 sees the board equipped with eight 4-pin PWM- and DC-controllable headers that can read data from several temperature monitoring points, including two bundled thermistor cables.
Overclocking results were perfectly fine once the meaning of the nonsensical LLC settings had been manually decrypted. Gigabyte's board seemed to draw a little more power than the comparisons but we'd happily take this compromise in return for the functional click-and-forget XMP capability.
Superb RGB LED and fan control, decent connectivity options, and stable operation with our 3200MHz memory are all positives for the Gigabyte Aorus AX370-Gaming 5. At £205, this well-balanced offering is worthy of a place on your X370 motherboard comparison list.

The Gigabyte Aorus AX370-Gaming 5 is available at Overclockers UK for £204.95.
Discuss on our Facebook page, over HERE.
Pros:
Superb fan control system with good monitoring capabilities.
Strong customisability for the RGB LED lighting solution.
Good brightness and colour accuracy for the onboard RGB LEDs.
PCIe 3.0 x4 M.2 and U.2 connectors.
XMP setting worked well with our 3200MHz G.SKILL Trident Z DDR4.
Current BIOS revision may have some issues but its general stability is strong.
Dual BIOS chips give peace of mind with frequent updates for the new AM4 platform.
Cons:
No internal 10Gbps USB 3.1 Gen 2 header.
No M.2 heatsink or cooling method provided.
UEFI is functional but navigation, layout, and included features could be improved.
KitGuru says: A well-balanced offering with superb RGB LED and fan control capabilities as well as solid stability throughout our testing.