Building a new PC can be expensive so shopping around and saving money where you can is always great news. Today, ASUS is launching a new cash back scheme for those looking to pick up one of its X99, Z170 or Z97 motherboards between today and the 17th of April 2016.
Several retailers are taking part in this, including Overclockers UK. Between today and mid next month, you can get up to £35 cashback on an ASUS gaming motherboard purchase.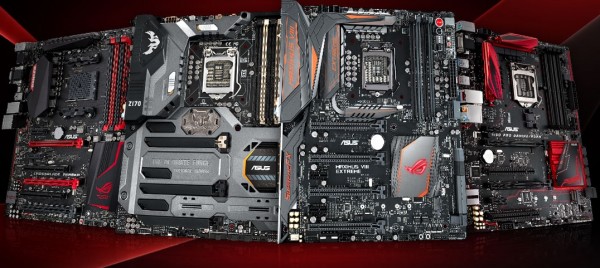 Motherboards eligible for £35 cash back include the Rampage V Extreme, Rampage V Extreme USB 3.1, Sabertooth X99, Maximus VIII Extreme and the Sabertooth Z97 Mark S. Boards eligible for £30 cashback include the Maximus VIII Formula, Sabertooth Z170 Mark 1/ Mark S, the Gryphon Z97 Armor Edition, Sabertooth Z97 USB 3.1, E3 Pro Gaming V5, Crosshair V Formula Z or the Crossblade ranger.
There are also tiers for £20 cashback and £15 cashback. This page over on OCUK has the full list so if you're buying a motherboard, be sure to give it a look. To claim your money back, you will need to head over to THIS LINK and follow the instructions there.
KitGuru Says: PC gaming can get expensive so little deals like this are often appreciated. Are any of you planning on picking up an Asus motherboard soon?