Plug Load Solutions, the entity responsible for the 80 Plus program, is reportedly increasing the testing and licensing fees to certify a PSU in its program. If the cost of testing and licensing fees increases, PSU vendors may end up increasing consumer pricing to compensate. 
The 80 Plus certification program has been used as a rating tool for PC power supplies for a long time. Divided into six ratings, the 80 Plus certification ensures that a PSU delivers a certain level of efficiency at 20%, 50%, and 100% load.
Given the importance of the PSU in a system, PC builders should choose reliable units that can provide enough power for the system components. When choosing a PSU, it's common to take the 80 Plus certification as a decisive factor. In 2021, those 80 Plus certifications are going to get more expensive for the manufacturer.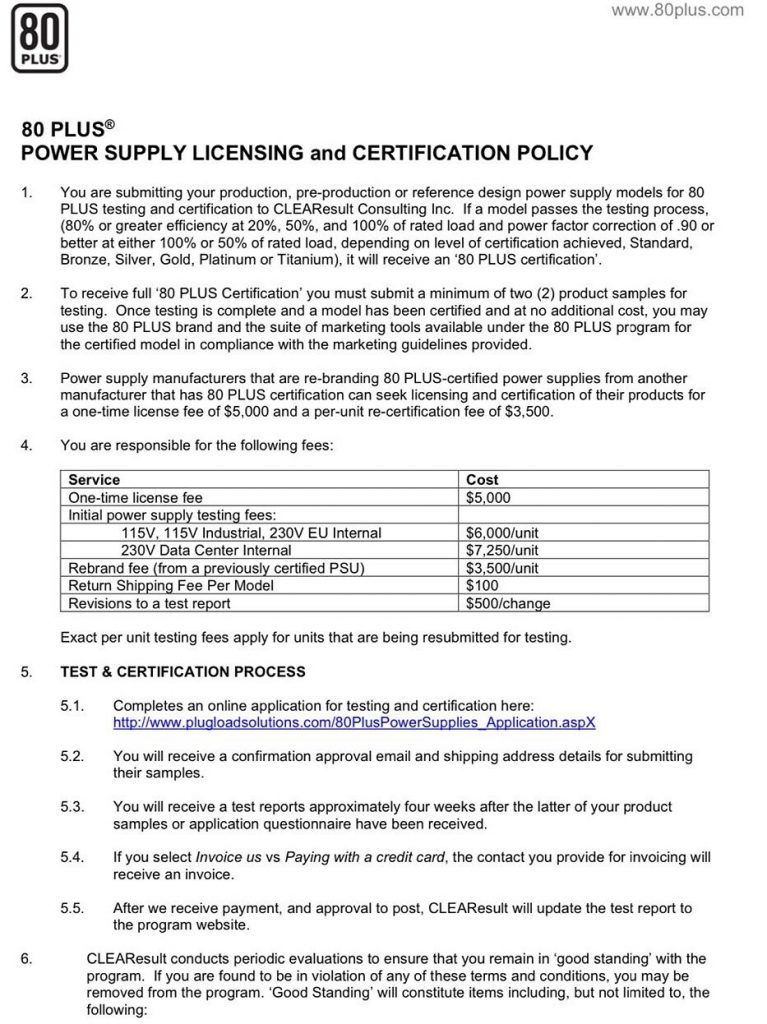 The document that Igor's Lab received (shown above) allows us to get an idea of how this system works. The first registration of a PSU model from the manufacturer into the 80 Plus certification program costs $5000. After that, comes the "initial power supply testing", costing about $6000/unit for 115V, 115V Industrial and 230V EU Internal PSUs ($2000/unit formerly), and $7250/unit if we are talking about a 230V data centre internal PSU.
Now, if we consider rebranded units, there's a "rebranded fee (from a previously certified PSU)" of $3500 per unit – a service that previously cost $1000 per unit. Using Corsair as an example, the Corsair RMx series, which is available with 550W, 650W, 750W, 850W, and 1000W capacities, would cost $17,500 to get recertified. The fear is that this increase in 80 Plus pricing will be reflected in the market price for power supplies, especially those coming from OEMs.
Alternatively, more PSU manufacturers could move away from the well-known 80 Plus certification system and use a rival rating service like Cybenetics, which first got started back in 2017 with the goal of providing more accurate efficiency certification and noise ratings for power supplies.
KitGuru says: Do you choose a PSU based on its 80 Plus certification? Do you think OEMs will increase the PSU pricing due to the increasing licensing and testing costs of the 80 Plus certification program?