MSI has announced its first series of power supplies. Named 'MPG GF', these new power supplies will be available in three models: the A650GF, the A750GF, and the A850GF. Rated with 80Plus Gold efficiency and featuring a modular design, the MPG GF power supplies are aimed at gamers and "support the latest Nvidia graphics cards".
The MSI MPG GF PSUs are built using 100% all Japanese 105° C capacitors to ensure their reliability and operating stability. The 80Plus Gold efficiency rating means that at 20% load, the power efficiency should be over 90%, while at 50% load it should be hovering around 92%, and at full load should be about 89%.
Featuring Active PFC and "LLC Half Bridge Topology with DC-DC module" designs, these power supplies have an extensive set of protection features, including OVP, OCP, OPP, OTP, SCP, and UVP. Thanks to its modular design, the MPG GF power supplies support either 3x VGA 8-pin ports and 2x CPU 8-pin ports or 4x VGA 8-pin ports and a single CPU 8-pin port.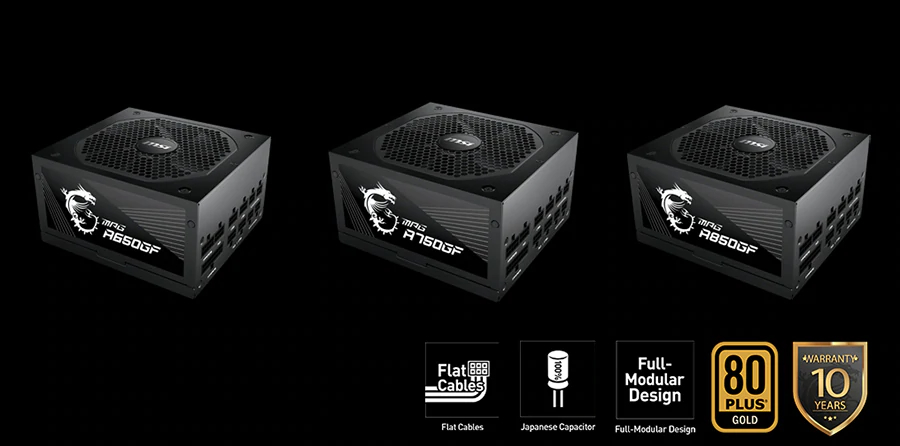 The fully modular design ensures that your system isn't filled with useless cables, resulting in a cleaner build that you can show to your friends. Additionally, the modular cables included are flat, making it easier for system builders to route and organise them throughout the system. With MSI's latest addition to its product portfolio alongside current PC cases, coolers, motherboards, and graphics cards, users can now build "a more mature and established MSI gaming ecosystem".
Pricing and availability of the new MSI power supplies have not been shared yet, but all of them will be backed by a 10-year warranty. You can learn more about the A650GF HERE, the A750GF HERE, and the A850GF HERE.
KitGuru says: Would you consider upgrading your current PSU to one of the new MSI power supplies? Which model would you choose for your system?