EVGA is launching a new load of SuperNova power supplies this year, with an ultra-efficient 80Plus Titanium rating available in 750W, 850W and 1000W flavours. These units feature a 94%+ efficiency rating, along with EVGA's ECO mode to minimize fan noise during low to medium load operations.
Aside from the Titanium-grade efficiency and ECO mode, the SuperNova T2 power supplies are also fully modular and come with an impressive ten-year warranty.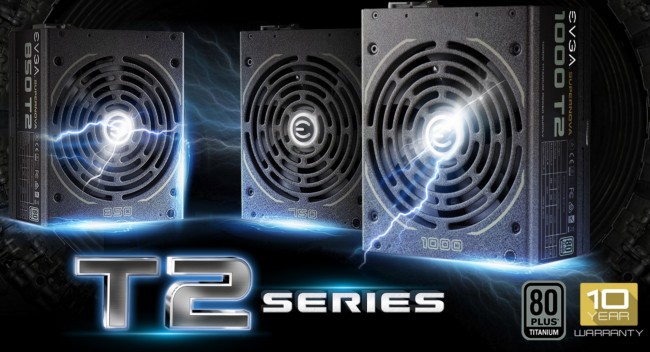 Other major features include a single +12V rail which offers better power output, rail stability and compatibility with the latest hardware. A Full DC to DC, LLC resonant circuit design and high quality Japanese capacitors.
Right now we don't know exactly when these power supplies will be available at retailers but you should keep an eye out if you are in the market for a new 80Plus Titanium power supply.
KitGuru Says: Having a decent power supply is an important part of any rig. What PSU are you currently running in your rig? Is there any particular brand you like to stick to?