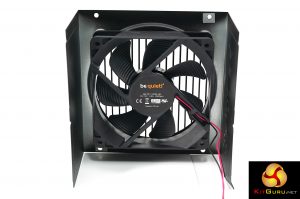 be quiet! are using a 120mm fan made in China. The model number is BQ QF1-12025-HS. This fan is rated 12V, 0.3A at a maximum of 2,000 rpm. These fans are classed by the company as 'silence optimised' with 'airflow optimised' fan blades – all to reduce turbulence and noise.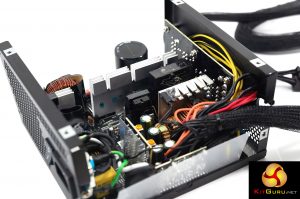 The overall build quality is good and we can see that the OEM partner is FSP again. Soldering quality is high.
The hardwired cable is sleeved into the unit and the chassis has a rubber grommet to protect against fraying, which is good to see. Sadly be quiet! are still using Chinese 'TEAPO' capacitors in this unit which gives me slight cause for concern, especially as they are the lower grade 85c capacitors. I know in some circles I have been hearing that Chinese capacitors are getting better, but I do base my concerns on failures I have experienced with TEAPO capacitors over the years. It would cost bequiet! perhaps 1-2 euros more for Japanese caps.
I do raise this point every year with be quiet! because while they may class these as their budget power supplies – £100 is still a fair bit of cash for a 700 watt supply.
On a more positive note this unit has solid caps implemented on the modular daughter card. This should help reduce ripple and noise and stabilise voltage regulation. The adoption of solid caps is a positive move.
be quiet have adopted separate temperature sensors for Over Temperature Protection and the fan controller. This allows them to adjust the fan curve to a finer level. The unit offers UVP, OVP, SCP, OPP, OCP and OTP. The design adopts a Mitsubishi surge absorber rather than a metal oxide varistor. This will help protect against voltage spikes. The surge absorber can handle up to 10kV and can survive 200 activations.
This unit is based around an Active Clamp + SR (Synchronous Rectifier) topology. The design uses additional active components such as a set of MOSFET's, capacitors and an IC on the primary and secondary side. These are adopted instead of passive diodes, allowing control over individual parts. A second IC controls rectification on the DC side.
The IC's on primary and secondary sides can communicate and are able to monitor components to improve efficiency. This is called Zero Voltage and Zero Current Switching technology (ZCS, ZVS).
This is the first 'entry level' power supply from be quiet! which implements DC/DC technology. The reason for doing this is to help improve regulation, voltage stability and to improve efficiency levels. They have also adopted a separate output coil for 5V.
Be sure to check out our sponsors store EKWB here