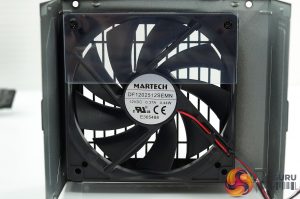 Bitfenix are using a Martech 120mm fan with the moniker DF1202512SEMN – rated 12VDC, 0.37A and 4.44W.  We can see the plastic cover over part of the power supply to direct air onto specific parts of the power supply.
While there is very little information about this fan online, we found out that it is an HDB fan – a sealed sleeve bearing which means the lubricant will last much longer than a regular sleeve bearing.
Below - a High Resolution Gallery of the internal layout of the Power Supply

If the gallery above does not display then whitelist us in your adblocker as they are known to interfere with our code.


The OEM for this specific unit is CWT and they are using a custom PCB created in conjunction with Bitfenix themselves. We have been told that this design is unique to Bitfenix and will not be shared by other CWT partners. The Primary side is a half bridge design with an LLC resonant converter. The secondary side is synchronous rectification to generate the +12V. The Minor rails are dealt with by some VRMS.
The transient filter starts at the AC receptacle with an X cap and two Y caps. Power cabling is wrapped around a ferrite ring to suppress EMI. The transient filter continues to the main PCB consisting of another X cap, two more Y caps, two CM chokes and a MOV.
The build quality is high and the soldering quality is good. There is plenty of airflow from above across the heatsinks to help keep everything cool.
I was pleased to see the company adopting high grade 105c rated Japanese capacitors. The primary capacitor is from Nichicon who are based in Kyoto, Japan. It is rated 680uF 400v. Secondary side capacitors are also Japanese.