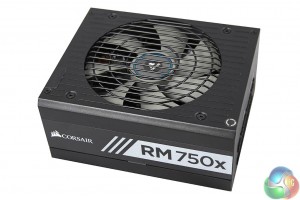 The Corsair RM750x power supply is a rather simple looking, inoffensive, yet attractively finished power supply. The RM 750x branding is visible on the side panels. It measures 150 mm (W) x 86 mm (H) x 180 mm (L).
Paint quality is high, and it passed our screwdriver test. This involves running the head of a Philips head driver down the side of the chassis with light to medium force. After all, how many times have you accidentally connected with a power supply during a system build?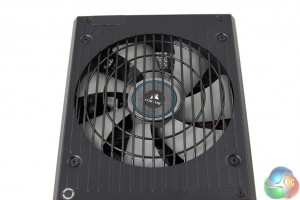 A large pale coloured fan is partially visible behind the metal grill – we will take a closer look at this when we open the unit shortly.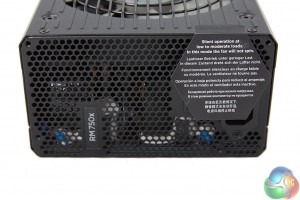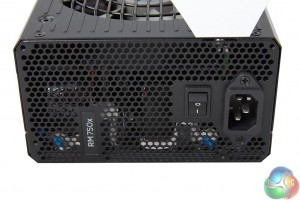 One side of the power supply is vented to help with heat dissipation and air flow. A power button and connector are positioned at the side. Corsair place a sticker over the cable connector to alert the user that the fan is not likely to spin at idle to moderate loads.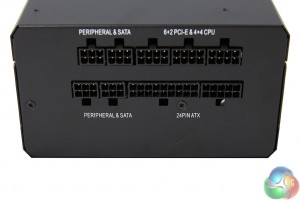 The modular panel is clearly laid out and labelled to avoid confusion during the build phase.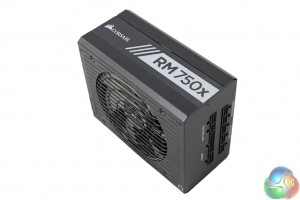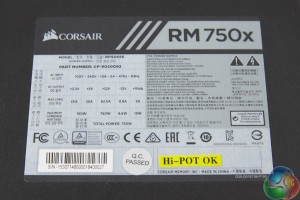 Corsair RM750x

DC Output

+3.3V

+5V

+12V

-12V

+5Vsb

Max Output

25A

25A

62.5A

0.8A

3A

Total Power
150W
750W
9.6W
15W
750W
The power supply can deliver 62.5A on the +12V rail. The specifications above are actually identical to the RMi 750W which we reviewed back in June. The RM750x can deliver the full power over the +12V rail.