One of the biggest mistakes that a relatively inexperienced system builder will make is to place all the component focus on the most powerful processor, motherboard and graphics card while trying to save money on the power supply – to be invested elsewhere.

When I am building a new rig I generally work out the power I will need first then buy the best supply I can afford while leaving enough headroom for a possible upgrade. Seasonic are without question one of the finest enthusiast power supply brands in the world and over the years I have entrusted their products to power many of my own systems, both at home and work. I would go as far to say that they have proven the most reliable brand of power supplies I have tested in the last five years on KitGuru.

If you read further down this page, you will see that Seasonic power supplies have won many awards on KitGuru over the years. All of these power supplies I reviewed myself, so I know for a fact how well they are made. Seasonic power supplies all use quality Japanese capacitors and internally their soldering quality is always stellar.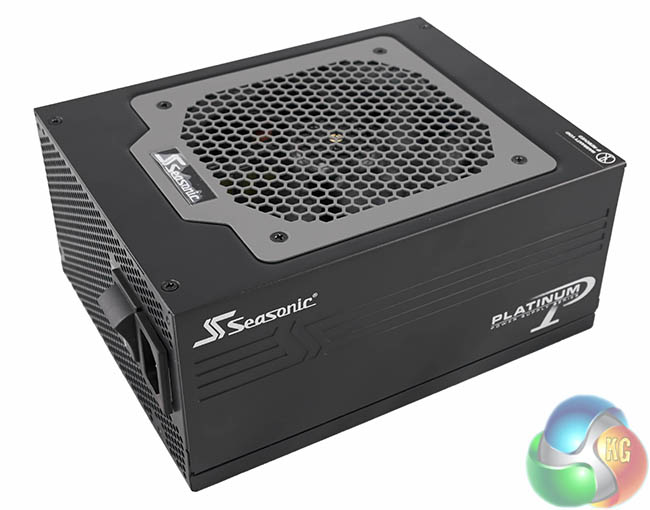 But how do you know which power supply you need?
If you have a system chassis with a window and are focusing on a tidy system build, then you will more than likely want to buy a modular power supply. There are several kinds of modular power supply available today. A 'Pure' modular power supply will have no hardwired cables. This means when you open the box and remove the power supply, there won't be any cables dangling from the unit itself. A separate bag will be supplied, with every cable in it.
Other modular power supplies will have some cables hardwired into the chassis. These hardwired cables will often be the main motherboard connector, and perhaps a couple of PCIe cables and the CPU 8/4 pin connector – these primary cables are generally used all the time.
If you don't get a modular power supply, then you will end up dealing with a plethora of cables you might not be using. All of these will need carefully routed out of sight behind the motherboard tray. Depending on the case you are using and the specific power supply, this can get messy.
Many computer cases don't have a lot of space behind the motherboard tray, so you will need to get creative. If cable routing is a high priority for you, we advise you opt for one of the modular supplies currently available online. You won't be trying to hide a snakes nest of cables you don't need.
Don't just blindly buy a power supply with a 1250W+ rating, especially if it is the bargain basement section. Unless you are running an ultra high end system with multiple graphics cards you are highly unlikely to need one. Of course you could have a system that incorporates two AMD R9 295X2 graphics cards (like this one we tested HERE) but in the real world, it is very unlikely you will need a 1.250 watt or 1,500 watt power supply. Aim for quality of watts, not quantity.
A good example is that a high end gaming system using an overclocked Core i7 Skylake processor with Nvidia GTX980 is likely to be only demanding between 300-400 watts of power under load. Many people would think just because a system is using a high end graphics card that a 1000W power supply is immediately needed. It isn't. Also it is worth bearing in mind that lesser brands with high wattage ratings will not be delivering the same standard of power as a quality design.
That said, I have seen some poorly written guides shared online. If you have a system that uses 600 watts of power when gaming under load, then a 1000 watt power supply is actually a pretty shrewd investment – you will be hitting around 60% demand under full load – this means the power supply will be operating at, or close to maximum efficiency. Noise levels will be lower, as the fan will be spinning relatively slowly. The higher rated capacitors will also be less stressed.
A power supply will reach maximum efficiency between 40% and 60% of its maximum rated load. It is also always prudent to leave a little headroom to add in some additional hardware at a later date. Ideally you don't want to be running a power supply at above 80% full output on a regular basis. Not only will it be operating outside maximum efficiency parameters, but the fan will likely be working much harder to maintain the thermal curve. A faster spinning fan means more noise, which none of us want.
Obviously this is only part of the procedure for buying the right power supply. You can also factor in the 80 Plus certification. This is the certification of rated efficiency. This will certify products that have more than 80% energy efficiency at 20%, 50% and 100% of rated load, and a power factor of 0.9 or greater at 100% load. That is, such PSUs will waste 20% or less electric energy as heat at the specified load levels, thus reducing electricity use and bills compared to less efficient PSUs.
We would always recommend at least 80 Plus Bronze certification for a budget power supply and when you spend more money, this certification will increase to Silver, Gold, Platinum and Titanium certification. Platinum and particularly Titanium power supplies are still very expensive – 80 Plus Gold units have proven popular with the enthusiast audience in the previous year. They are both efficient and often modestly priced.
Be aware that some power supplies don't achieve their claimed efficiency levels. There have been many articles on this in the past and it certainly complicates the issue. Just because you see an 80 Plus Gold badge on the front of the box, it doesn't mean the power supply actually has been certified. That said, all of the Seasonic power supplies shown at the bottom of this page have achieved their efficiency rating.
Ripple performance is also an important factor when deciding on a power supply, because if a specific unit falls outside industry tolerance specifications, it can be potentially dangerous. Ripple occurs with all SMPSU's (switch mode power supply units). These are tiny fluctuations in a power supplies output voltage on the order of tens of millivolts, millions of times a second. Ripple is measured as a peak-to-peak value in milivolts and is measured using an oscilloscope. We detail this, and more, in all KitGuru power supply reviews.
The ATX specification sets these limits on computer PSU ripple levels (meaning we don't want to see results in excess of these figures below):
+12V – 120mV
+5V – 50mV
+3.3V – 50mV
+5VSB – 50mV
Ideally (in my opinion) we want to see figures in this range:
+12V – 80mV
+5V – 35mV
+3.3V – 35mV
+5VSB – 50mV
A power supply which shows ripple outside (higher) than that listed by the ATX specifications can potentially cause hardware damage. There is no way of measuring when a problem might occur, but it is likely something will go wrong, long term. A power supply that shows good ripple suppression will help aid hardware longevity.
Ripple can have a negative impact on electrolytic capacitors. A ripple reading close to a capacitors rated ripple will potentially shorten the lifespan and ripple exceeding its rated level could cause it to blow. It is worth pointing out that electrolytic capacitors are found on a motherboard, a graphics card, the power supply and more – so the potential for damage is high. Using a power supply with good ripple suppression is very important. If you want to learn more about this, there are plenty of indepth technical articles available online.
Additionally, If you are trying to build a quiet system it is important to factor in the fan performance of the unit. A fan that has to work hard to maintain good internal ambient temperatures will likely produce a lot of noise which can be distracting, especially if the rest of your system has been built with silence in mind.
Below are some of the finest Seasonic power supplies we have reviewed in the last 24 months – targeting various price points and system demands. All of these units have been thoroughly analysed by myself and have earned our highest awards – you can click the images of the power supplies below and read the indepth reviews.
Seasonic are not the only quality power supply manufacturer whose products I have analysed over the last decade, but their level of consistency throughout the ranges really has proven in our lab testing to be second to none.
Allan 'Zardon' Campbell
KitGuru Limited Managing Director and Editor In Chief.
Seasonic Snow Silent 750w

 

Seasonic Platinum 1050WXP3

 

Seasonic S12G-450

 
 
 
We wouldn't expect Seasonic to cut corners and we are glad to say they have not. When stressing the unit to breaking point at 875w, we measured efficiency at 91.5%. This 750w PSU was actually capable of sustaining an 850 watt load for many hours. Ripple suppression is excellent, load regulation is stellar and overall efficiency is extremely high. The pure modular design, super build quality and high grade cabling will appeal to the enthusiast audience who want to be sure they are giving their system quality power.
The build quality of the power supply is exceptional, and even the chassis has been designed and coated to the highest standards. It wasn't a surprise to announce that it passed our screw driver stress test with flying colours. It uses three Nippon Chemi Con 105c 330uF 420V capacitors and in our tests it was actually able to deliver 1,200Watts of power before shutting down. Technically it is difficult to find fault with the 1050WXP3. Load regulation is class leading and the unit coped exceptionally well with our stressful cross loading test.
Seasonic are trying hard to keep the pricing down, while not compromising on the component selection inside. Technically we have no concerns with the S12G-450 power supply. It's rock solid and delivered around 530 watts before safely shutting down.
Seasonic use high grade 105C capacitors in both primary and secondary stages, ideal for long term reliability. If you're building a new system and want a rock solid power supply without spending a fortune, then the S12G-450 deserves serious consideration.
Pros
 
Pros
 
Pros

Built to exacting standards
Quality paint work
Pure modular design
Quiet fluid dynamic bearing fan
7 year warranty
Rock solid

Nippon Chemi Con 105c capacitors
Pure modular design
Hysteresis system works great
High grade Sanyo Denki fan
8 PCIe and 14 SATA connectors
7 year warranty

Competitive price point
Built with 105c capacitors
80 Plus Gold
Delivered 530 watts+
Quiet
Excellent ripple suppression

Cons
 
Cons
 
Cons

White colour won't suit everyone

KitGuru says:
 
KitGuru says:
 
KitGuru says:
Another quality design, to slot in below the high end 1050 watt model.
Seasonic are producing some of the finest power supplies on the market.
If you're happy routing cables then the S12G-450 is a fantastic PSU.
Seasonic Platinum 1200w

 

Seasonic S12G-750

 

Seasonic M12 II Bronze Evo

 
 
 
KitGuru's choice for Best Overall Power Supply Unit for 2014 comes in luxurious packaging that claims to deliver 1,200 watts. In our extreme test scenario, it comfortably delivered 1,300 watts before protection circuits kicked in at 1,350w.
In regular use, the 1200w Platinum PSU doesn't even turn its fans on when delivering 600 watts. Technically, the 1200W Platinum power supply is superb. Load regulation is rock solid and the unit coped very well with our stressful cross loading test. An extremely impressive flagship model.
The latest Seasonic S12G range of power supplies is the companies first major attempt at bringing a high grade 80 Plus Gold Certified power supply into a very competitive price zone. For many, a 750 watt power supply is the perfect capacity. The majority of enthusiast gaming systems will require around 300-400 watts under load, so this S12G 750W will be running at optimum efficiency, between 50 and 60 percent load. Our sample delivered a maximum of 850w. With four 6+2 pin PCIe connectors there is plenty of support for a Crossfire or SLi system.
Seasonic M12 II Bronze Evo Edition excelled in our tests, achieving some fantastic technical results under demanding situations. The pure modular design will appeal to the demanding enthusiast audience who are building a showcase system complete with backlit window panel. The adoption of flat 'ribbon' style modular cables ensures that routing will be straightforward. It was close to 80 Plus Silver certification standards in our tests. We achieve a maximum load of 964 watts. Noise suppression is excellent.
Pros
 
Pros
 
Pros

80 Plus Platinum
Pure Modular
Low noise levels under load
High grade fan
10 PCIe connectors
7 year warranty

Very competitive pricing
105c high grade Japanese capacitors
80 Plus Gold
Delivered almost 850W under load
Ripple suppression is excellent
Quiet

Strong ripple suppression.
deep paint.
105c japanese capacitors.
achieved 80 Plus Silver efficiency in our tests.
delivered 964 watts before shutting down.
fully modular.
flat cables.

Cons
 
Cons
 
Cons

Ripple suppression could be better

KitGuru says:
 
KitGuru says:
 
KitGuru says:
Another very powerful, over specified, efficient, high grade power supply.
For a non-modular PSU, this is pretty much as good as it gets.
Another quality design, to slot in below the high end 1050 watt model.
Seasonic TFX 350w

 

Seasonic Snow Silent 1050w

 

Seasonic X-Series 1250w

 
 
 
Most TFX power supplies available on the market today are unattractive looking ugly white or grey slabs of metal – so it is good to note that Seasonic are placing effort into the finish and modular cable implementation. Technically there is little to fault. Load regulation is stellar and ripple suppression proved excellent. They could have selected a higher quality fan, but you only hear it above 300 watts. If you need a TFX power supply for a specialist build, then the Seasonic TFX 350W deserves to make the final shortlist.
With three Nippon Chemi Con 105c 330uF 420V capacitors, in our tests it delivered 1,200Watts before shutting down. This is a remarkable result and bodes well if you are running close to the 1000W redline under load. Seasonic are clearly over specifying these units which is commendable, especially as we often see corners being cut by competitors. Technically, these high grade Platinum units from Seasonic are class leaders. Load regulation is stellar, ripple suppression is excellent and the unit copes well with demanding cross load tests.
Delivering a maximum load of 1,355 watts at an efficiency of 88%, there is no doubt that the Seasonic X-Series 1250W is a monster power supply designed to deal with expensive, high drain CrossFire and SLi system builds. Fan controller has been upgraded with a new multi loop IC control to help prolong fan life. Dual copper bars are included with an reported extra 40% trace capacity which help it to handle higher current more efficiently. It is an exceptional design and one that will cope extremely well with demanding graphics cards.
Pros
 
Pros
 
Pros

Great looking unit
Quality paintwork
Modular cabling is excellent
High levels of efficiency
Passed ripple suppression tests
Delivers ~400w before shutting down

Built to the highest standards
Nippon Chemi Con 105c capacitors
Pure modular design
Low noise fluid dynamic bearing fan
8 PCIe and 14 SATA connectors
7 year warranty

Quiet
Rock solid
Fully modular
Monster +12V output
Built for Crossfire/SLi systems
Delivered 1,350W before shut down

Cons
 
Cons
 
Cons

Gets noticeably loud close to full load

Silver stickers didn't adhere too well

Gold grill won't suit everyone

KitGuru says:
 
KitGuru says:
 
KitGuru says:
Need a TFX PSU for a specialist build? TFX 350W deserves to be shortlisted
Another stellar high grade power supply from the Seasonic team.
Another top grade, high end power supply from Seasonic.