The Sennheiser GSX 1200 Pro ships in a clean white box with a blue strip running across the bottom. A large photo of the amp itself is positioned on the front.
Inside, there are two small booklets (one safety guide and one quick-start guide) as well as two cables. The red cable is a USB cable which plugs into your PC – this is how data is sent to the amp. The black cable is a 2m 'chat' cable, which uses 2.5mm jacks to connect to another GSX 1200 Pro to allow for the hardwired communication.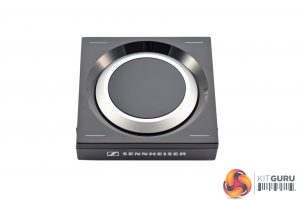 The amplifier itself is a relatively small square box, and it is almost identical to the GSX 1000. I say 'almost identical' as there are a couple of key differences, but we'll get to those in a minute.
For those of you who are unfamiliar with the GSX range, the metallic silver ring that surrounds the middle of the amplifier is actually a dedicated volume wheel – this makes it very easy to quickly adjust the volume of your audio without faffing about in Windows or using a keyboard shortcut.
That glossy section in the middle, which the volume wheel is surrounding, is the central screen and it is touch-enabled. Various options pop up here, though we look at that on the next page.
Now, turning to the right-hand side and left-hand side of the device, we see the first difference between the GSX 1000 and the GSX 1200 Pro. Essentially, on either side of the amp are two smaller volume wheels, the one on the left is labelled 'out', while the on the right is labelled 'in'.
Essentially, these are the volume adjusters for chat link – the hardwired communication that is possible when two or more (up to 8 in total) GSX 1200 Pros are linked together. The 'out' wheel adjusts the amount of volume you are sending to the connected amp, while the 'in' wheel adjusts the amount of volume you are receiving.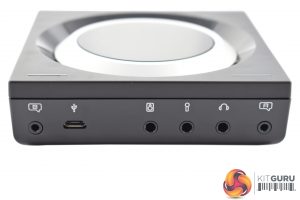 At the back of the device we have all of the inputs. On either side are two 2.5mm jacks labelled 'A' and 'B' – these are for connecting multiple GSX 1200's together for chat link. The micro-USB port is for connecting the amp to your PC, and then there are 3x 3.5mm jacks – these are for connecting speakers, a mic and headphones, and each port has a corresponding label.
On the bottom of the amp there is not much to look at, other than one rubber pad which is designed to prevent the GSX 1200 Pro from slipping. There is also a small stand which just raises the amp off the ground slightly, should that be more convenient for you.