Intel Corp. announced its new 750-series solid-state drives this week. The new SSDs are designed for high-performance desktops and the manufacturer calls the drives its "highest-performing client SSDs". With read speeds up to 2.40GB/s and capacities up to 1.2TB, the Intel 750-series SSD is a dream of any performance enthusiast.
The Intel 750 SSDs are based on the company's own proprietary controller known as the CH29AE41AB0 that supports various types of NAND flash memory with ONFI interface as well as PCI Express host interface and NVMe protocol. The same controller is utilised on Intel's DC P3700 enterprise-class solid-state drives. The 750 SSDs use IMFT's multi-level cell (MLC) NAND flash memory produced using 20nm fabrication process and are equipped with 2.5GB of DDR3 DRAM cache.
The new high-end consumer solid-state drives from Intel are available in 400GB and 1.2TB capacities in order to address customers with relatively limited budgets and customers with requirements for higher storage capacities. The Intel 750-series SSDs come in PCIe 3.0 x4 half-height half-length (HHHL) add-in-card form-factor. Eventually Intel plans to release 2.5" versions of the 750-series SSDs with SATA Express SFF-8639 connector (which supports four lanes of PCI Express 3.0).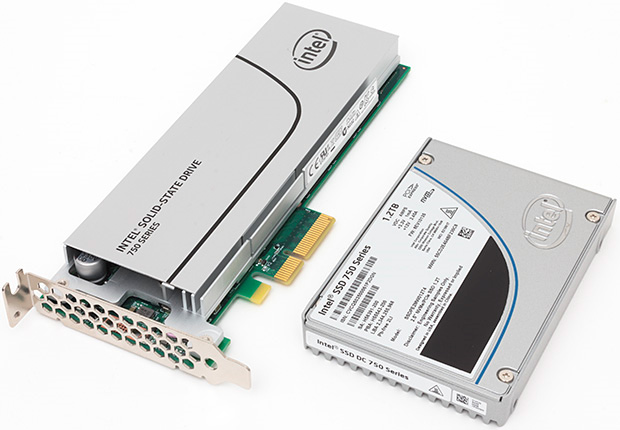 Thanks to advanced controller and high-speed NAND, Intel's 750-series solid-state drives can deliver truly stunning performance for consumer-grade SSDs. Intel declares sequential read/write speeds up to 2.20/0.9 GB/s for the 400GB version and up to 2.40/1.2 GB/s for the 1.2TB flavour. Thanks to support of the NVM Express (NVMe) protocol, the new SSDs should deliver considerably higher performance in real-world applications than the drives with similar interfaces, but which rely on the outdated AHCI standard. Still, in many workloads that require intensive writes, Intel's 750-series SSDs will be behind a number of other high-end SSDs available today.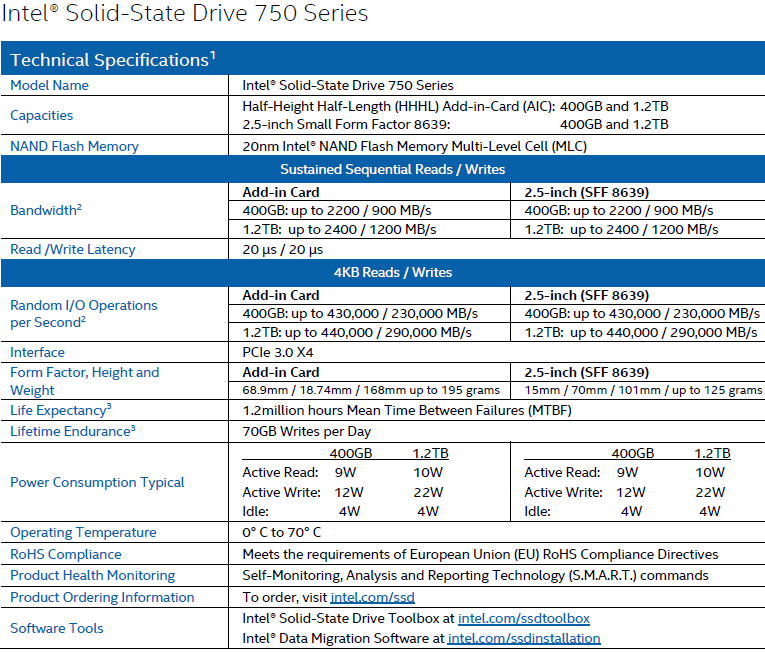 "Intel's SSD 750 Series drive shows levels of performance that we have yet to see on the consumer storage market at a somewhat affordable price point," said Luke Hill, KitGuru's senior SSD expert, in his review of the Intel 750-series SSD. "While it may not be the fastest consumer drive for write operations, read performance is outstanding."
Intel rates the SSD 750 drive for 70GB writes per day, with a total of up to 219TBW (terabytes written). The 750-series SSDs from Intel are covered with a five-year limited warranty.
The suggested retail price of the Intel SSD 750 400GB is $389, the more capacious 1.2TB version will retail for $1029. Overclockers UK currently offers Intel SSD 750 400GB for £369.98 and the 1.2TB version for £969.98.
Discuss on our Facebook page, HERE.
KitGuru Says: While Intel's 750-series SSDs offer excpetional performance for consumer applications, it is rather noteworthy that the manufacturer did not tune them to deliver great performance in write-intensive applications. The drives use the same controller as the higher-performing Intel DC P3700-series SSDs, which have fantastically high sequential write speeds between 1.08GB/s and 2GB/s. Basically speaking, Intel clearly wanted to position its 750-series SSD as a solution for gamers and performance-minded enthusiasts, not professionals who require high sequential write speeds in certain workloads (and who can afford more expensive drives). If you do not mind relatively slow write speeds (and the absolute majority of users should hardly care about them), then the Intel 750-series SSD 400GB is a thing to consider. While the drive is definitely not affordable (especially in the U.K.), it is worth every penny spent. Moreover, given the recent developments on the market of high-end graphics adapters, a $390/£370 premium SSD does not seem too expensive.