Intel Corp. has quietly introduced its new family of solid-state drives designed for datacentres. The new Intel DC P3608 SSDs feature up to 4TB capacity as well as up to 5GB/s sequential read speed, they are among the highest-performing solid-state drives in the industry right now. The drives are designed for HPC workflows, databases and real-time analytics.
The Intel DC P3608 SSDs are based on two NVMe controllers (essentially working in RAID 0 mode) as well as Intel's high-endurance multi-level cell NAND flash memory produced using 20nm process technology. The two controllers can process two times more NVMe commands than one, thus, improving performance and better distributing IO over multi-core microprocessors. The DC P3608 drives feature enhanced power loss management with special hardware and firmware algorithms as well as built-in self-test technology. Like other enterprise-class SSDs, the DC P3608 features end-to-end data protection and ECC on all internal and external memory components in the data path.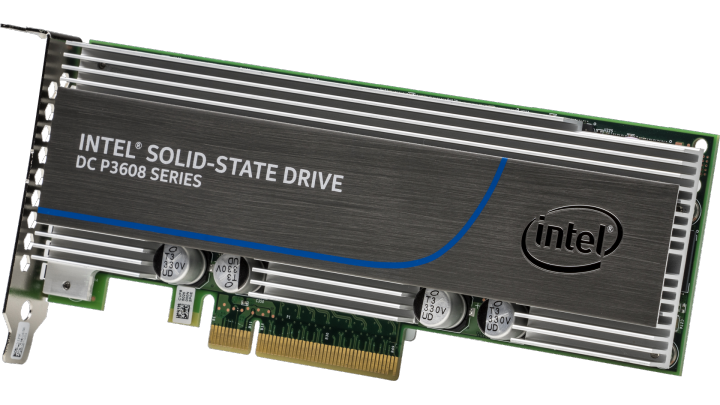 The DC P3608-series SSDs from Intel come in 1.6TB, 3.2TB and 4TB capacities. Maximum sequential read and write performance of the P3608 drives is 5000MB/s and 3000MB/s, respectively. The SSDs can perform up to 850 thousand 4KB random read input/output operations per second (IOPS) and up to 150 thousand 4KB random write IOPS. The new datacentre SSDs use PCI Express x8 interface and half-length/half height form-factor.

While the new DC P3608 solid-state drives from Intel are designed for read-intensive workloads, the drives can endure pretty heavy usage (up to 21.9 petabytes to be written [PBW] in case of the 4TB SSD).
Thanks to the fact that the Intel DC P3608 solid-state drives use PCI Express x8 interface, NVMe protocol and two controllers, they are compatible with all modern servers with NVMe support. Yet, performance of the new drives is comparable to that offered by proprietary solid-state storage solutions. Quite obviously, the DC P3608 is faster than the top-of-the-range 750-series SSD Intel offers for consumers.
The unbeatable performance comes at a price. The DC P3608 1.6TB will cost $3509, the DC P3608 3.2TB is priced at $7009, whereas the top-of-the-range DC P3608 4TB will be available for $8759, according to Legit Reviews.
The Intel DC P3608 SSDs are backed by a five-year warranty.

Discuss on our Facebook page, HERE.
KitGuru Says: The Intel DC P3608 solid-state drives are hypercars of the SSD world, which is why their prices are incredibly high. On the other hand, their performance is likely to be considerably lower than performance of the upcoming Optane SSDs with 3D XPoint memory, which are due next year.