OCZ Storage Solutions, a wholly-owned subsidiary of Toshiba Corp., on Wednesday introduced its new entry-level family of solid-state drives. The Arc 100-series of SSDs feature the latest technologies, yet do not offer leading-edge performance, however, their price promises to be very competitive.
The OCZ Arc 100-series SSDs provide up to 490MB/s sequential read speed, up to 450MB/s sequential write speed as well as up to 75K/80K 4KB random read/write IOPS [input/output operations per second], which is not bad for entry-level solid-state drives. The drives will be available in 2.5"/7mm form-factor with Serial ATA-6Gb/s interface as well as in 120GB, 240GB and 480GB capacities. The drives support 256-bit encryption technology.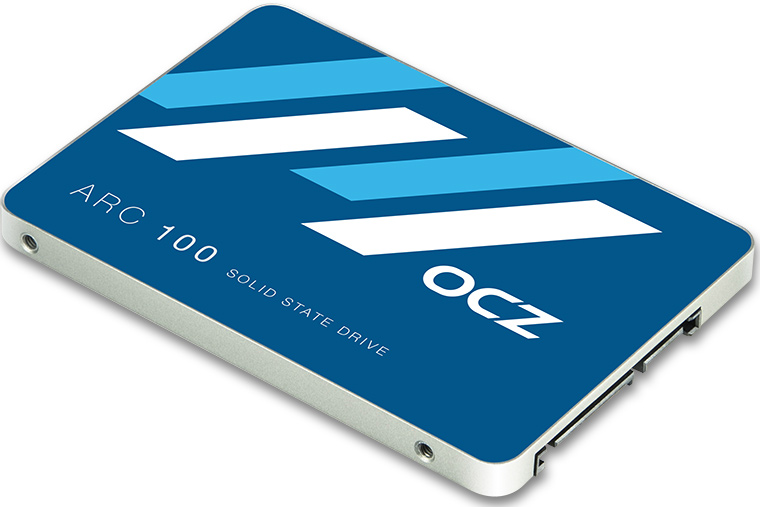 The new SSDs from OCZ are based on Toshiba's second-generation 19nm multi-level cell (MLC) NAND flash memory and are powered by OCZ Indilinx Barefoot 3 M10 controller, which supports all the latest and greatest technologies. The Arc 100 drives are rated for 20GB/day of host writes for 3 years under typical client workloads. OCZ declares MTBF for the drives at two million hours.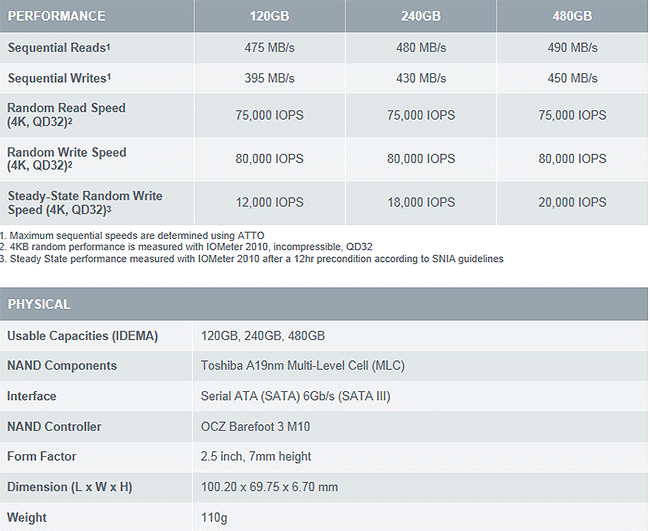 "OCZ is known for delivering innovative enthusiast and high performance storage solutions but we also recognize that there is a large portion of the value-minded market that can also benefit from transitioning to SSDs," said Ralph Schmitt, CEO of OCZ Storage Solutions. "The new ARC Series represents an excellent value for consumers as it leverages the proven in-house controller and firmware platforms found in our award-winning Vertex and Vector Series SSDs to deliver exceptional performance, robust features and high reliability that everyday users demand."
The OCZ Arc 100 SSDs are backed with OCZ's brand new "ShieldPlus Warranty". If an SSD breaks down, end-users simply provide their Arc serial number (no original proof of purchase required) and an OCZ customer service representative will provide troubleshooting and support. In the event that the product is determined to be defective, a brand-new Arc SSD of the same capacity will be advance shipped to the customer along with a special box to return the defective drive to OCZ. The ShieldPlus is available in both North America and EMEA at time of launch, and additional supported regions will be announced in the future.
The ARC 100 Series will be available through OCZ's global channel in the next few weeks.
Read KitGuru's review of OCZ's Arc solid-state drives HERE.
Discuss on our Facebook page, HERE.
KitGuru Says: Since OCZ did not announce the exact prices, it is unclear how competitive will the Arc 100 drives be against various other inexpensive drives available today. What is truly special about the Arc 100 is its warranty, which is completely hassle free and which will eventually cover other OCZ drives.