At the Consumer Electronics Show 2015 Plextor demonstrated its all-new M7e solid-state drive that will come in M.2 form-factor and will use PCI Express 2.0 x4 interface, thus, providing a massive performance improvement over current-generation M6e SSD.
Although Plextor's solid-state drives are renowned for their reliability and are praised for consistent performance, the latest Plextor M6e was not exactly a performance champion among SSDs with PCI Express interface in general. The reason for that was plain and simple: it featured the PCI Express 2.0 x2 interface (in a bid to maintain compatibility with common M.2 slots on widespread Intel 9-series platforms) that has maximum bandwidth of around 1GB/s. However, its successor, the Plextor M7e, will use the PCIe 2.0 x4 interface with bandwidth of up to 2GB/s.

The Plextor M7e solid-state drives will be based on the Marvell 88SS9293 controller and the latest Toshiba MLC NAND flash, thus, providing completely new levels of performance. While Plextor is still working on the firmware of the M7e SSD, it already scores up to 1.4GB/s sequential read speed and up to 1GB/s sequential write speed in CrystalMark, thus, beating the well-known Samsung 941, which is used inside high-end notebooks, such as Apple MacBook Pro.
LegitReviews reports that Plextor will offer the M7e SSDs in 256GB, 512GB and 1TB capacities in the M.2 (PCIe 2.0 x4) form-factor for modern desktops with appropriate slot as well as with half-height, half-length (HHHL) adapter for systems without a high-performance M.2 implementation. According to images from LegitReviews, the M7e will even be equipped with a power loss protection circuitry.
The Plextor M7e is expected to become available in the second quarter of 2015.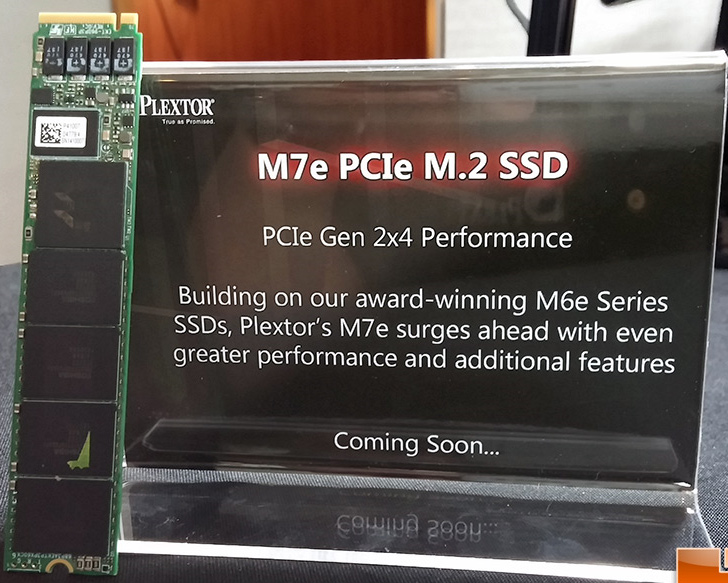 Discuss on our Facebook page, HERE.
KitGuru Says: It looks like PCI Express solid-state drives are really beginning to take off this year. Kingston has already introduced its HyperX Predator PCIe SSD with great performance, now Plextor is following its rival with the M7e, which should provide incredible performance with all the technologies Plextor has to offer. Let's just hope that the new M.2/PCIe 2.0 x4 drives will not cost significantly more than existing SATA-6Gb/s devices. At the end, their bill-of-materials is similar, if not lower…