At the Flash Memory Summit trade-show that takes place in Santa Clara, California, this week Toshiba Corp. has showcased its first solid-state drive based on triple-level cell (TLC) NAND flash memory. While the SSD is designed for client devices, it will be aimed only at embedded applications and will not reach the consumer market.
Triple-level cell (TLC) NAND flash memory promises to significantly reduce the costs and prices of solid-state drives. The main challenge with TLC NAND flash memory is its relatively low endurance compared to multi-level cell (MLC) or single-level cell (SLC) memory. TLC NAND sustains around 1000 of program-erase (P/E) cycles. Therefore, in order to create a reliable high-performance SSD based on TLC NAND flash memory made using a leading fabrication process, a special set of technologies (such as a new controller that supports error-correction capabilities, advanced firmware, etc.) is needed.
Samsung Electronics has been using TLC NAND for consumer-class 840-series SSDs for nearly two years now, but its rivals still use TLC NAND for other storage devices.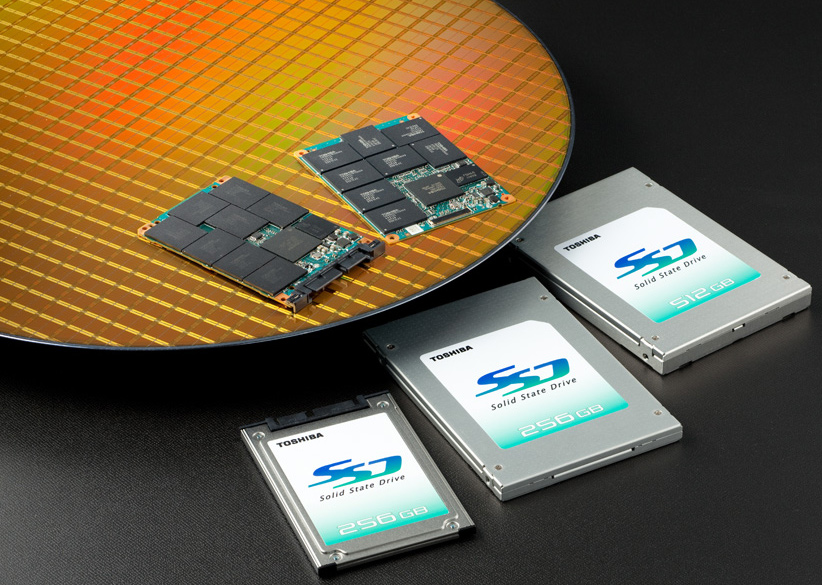 At the Flash Memory Summit trade-show Toshiba showcased its SG4-series TLC NAND-based embedded client SSDs (the company did not reveal specs of the drive). While the drives will power certain devices, they will not hit the market of SSDs and will therefore not rival Samsung's inexpensive SSD offerings, which is not really good for the market.
It is noteworthy that Toshiba and SanDisk planned to start mass production of TLC NAND flash memory using leading-edge 15nm process technology this summer. Perhaps, eventually such memory will be used for affordable SSDs by both companies. However, at this trade-show the company only demonstrated its TLC-based embedded SSD.
Discuss on our Facebook page, HERE.
KitGuru Says: While TLC NAND is good for entry-level storage solutions, mainstream and high-end SSDs tend to utilise MLC NAND. Therefore, the competition in the higher-end segment of the market will continue, at least, till SATA Express SSDs emerge and Samsung will be able to demonstrate the advantages of its 3D V-NAND in all of its glory…