If you're an online game streamer and want to get yourself some free hardware to help out, OCZ is looking to sponsor you. If you're willing to mention the name occasionally and wear the odd bit of OCZ branded gear, you could get yourself a free SSD and a number of other interesting perks for you and your viewers.
The OCZ Streamer Sponsorship system is a simple one. If you are a game streaming Twitch partner who doesn't have sponsorship from another SSD brand already, OCZ wants to hear from you. If you head to the official sign-up page and punch in your details, you'll be contacted shortly to let you know whether you've been accepted or not.
You will also be asked which tier of sponsorship you're most interested in though, as they do have different perks and different requirements. For example, Tier 1 nets you a free OCZ Vector 180 120GB SSD and all you have to do is mention OCZ in your system specs and join the official OCZ Team page and Steam Group.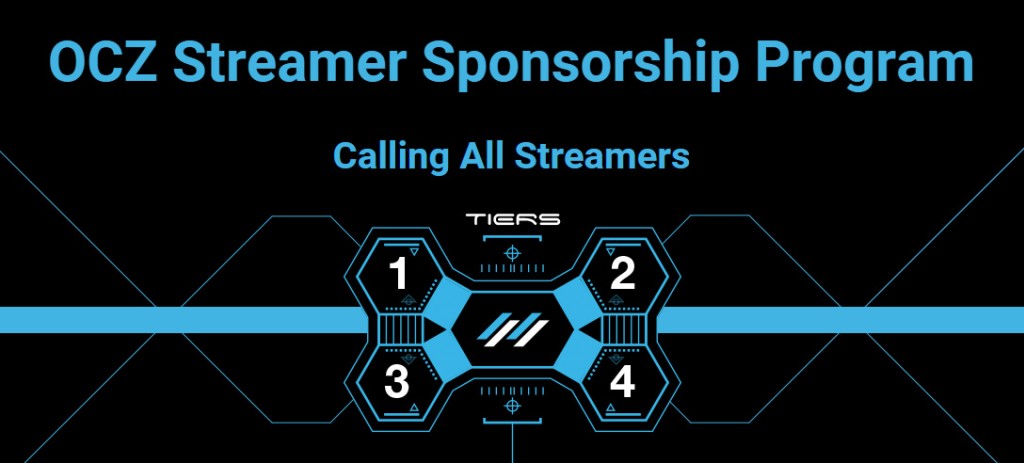 Tier 2 you get a bigger 240GB SSD, an OCZ T-Shirt, a discount code for viewers and an invitation to the OCZ Team page. For that though you'll need to also wear the T-Shirt on stream and have a banner on your page with a discount code link.
Right at the top end, Tier 4, you get a near 1TB Vector 180 SSD, the T-Shirt and discount code, some "OCZ Swag," one SSD giveaway everytime you sell five drives through your coupon code and an invitation to stream on the OCZ Twitch channel once a week. You will need to be a vocal OCZ fan though, shouting out the brand on social media, have the OCZ logo as your stream's overlay and you have to broadcast on the OCZ channel on a regular basis.
If you want to sign up for the program, head here.
Discuss on our Facebook page, HERE.
KitGuru Says: What's interesting about this sponsorship program is that it is clearly going after the smaller scale streamers. Since there is no money involved in this, it's a good way for OCZ to get a lot of coverage in the more amateur focused streams, or those of the professionals just starting out. Not a bad idea considering some of the bigger ones would likely demand much more for the regular plugs.