Fighting off the monstrously large Titans in the world of Attack on Titan is a rather creepy experience. Whether you've read through the manga or watched the anime, those 10 story tall, nude-with-no-genitals monsters are always unnerving. The upcoming game for the , Vita, PS3 and PS4 has certainly captured that, with more than a handful of the smiling giants bearing down on the series' heroes in the latest trailer.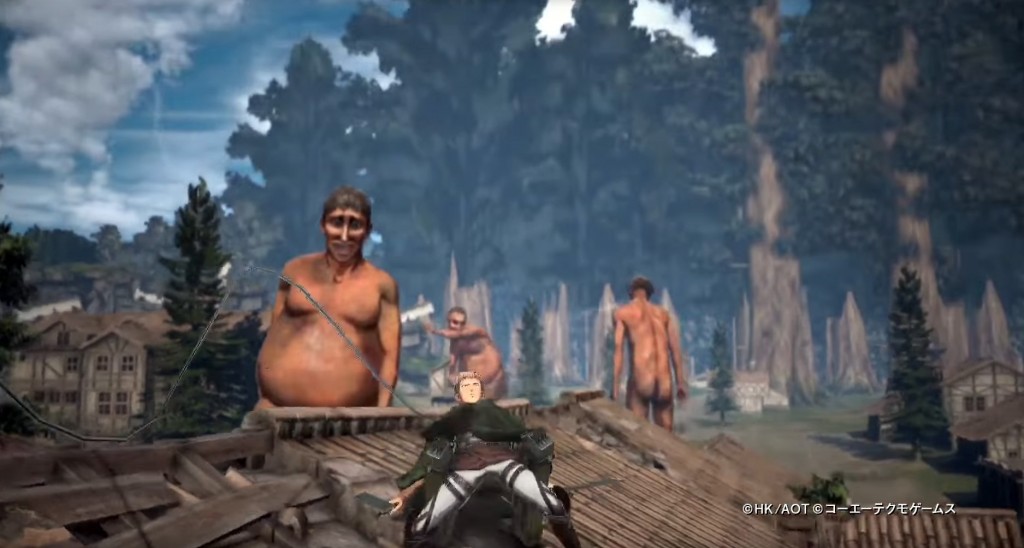 Jean decides to get the hell out of dodge
Fortunately there are plenty of people in the world of Attack on Titan to stop them. Eren of course features with his high-spirited vertical manoeuvring, as does Mikasa, cutting down Titans at every turn; perhaps only eclipsed by Levi himself, who makes a habit of removing limbs before delivering the killing blow.
Although there are a lot of cuts in this gameplay showcase, it does give us a good idea of what to expect from the game. The story looks to start from the very beginning of the Manga, but goes well beyond the bounds of the anime into much more advanced stories involving some slightly hairier variants.
[yframe url='http://www.youtube.com/watch?v=z9ZilkpISuY']
There's items to buy, hugely destructible buildings, combat in and out of the city, within the Forest of Giant Trees and more than once players have to deal with the gargantuan threat of both the Armoured Titan and his Colossal friend.
The trailer also showcases some of the extra bonuses you can get with the game. If you pre-order the game from anywhere, you unlock Eren and Levi's cleaning outfits to battle in, as well as a limited number of Attack on Titan hand hand towels. Depending on where you pre-order from (in Japan), you can also get yourself a mouse mat, post cards, posters, calendars and even a cushion, all AoT themed.
There's also a "Treasure Box" edition, which comes with badges, costumes, a soundtrack, bookmark and an "official scouting report," booklet.
The game is set for release on PS4, PS3 and Vita on the 16th February.
Discuss on our Facebook page, HERE.
KitGuru Says: I hope this comes over to the west at some point, perhaps with a PC or Wii U port. It actually looks pretty good fun. I'd take a Monster Hunter like game in the AoT universe.