If you are one of those users who demands a massive primary drive in a system then today's review will be of interest. We look at the new Kingston V310 Solid State drive, which ships in a whopping 960GB capacity. The big question which we answer today – does it compare well against market leaders such as the Samsung 840 EVO 1TB?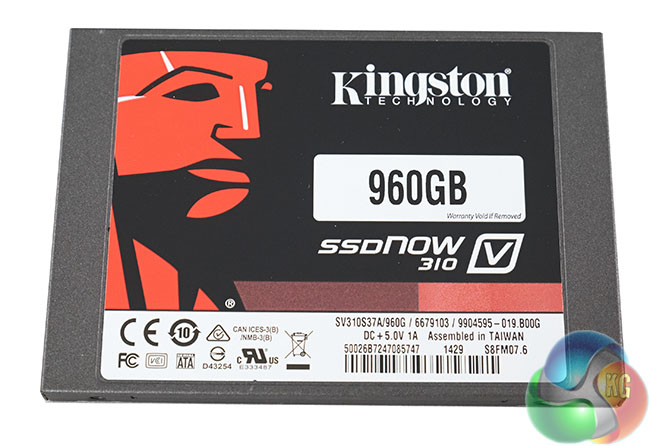 Kingston SSDNow V310 Features and Specifications:
Faster: improves speed of loading applications and system boot up.
Reliable: with no moving parts, solid-state drives are less likely to fail than standard hard drives.
Convenient: all-in-one kits with all the components for easy installation.
Large capacity: enough space to migrate your entire HDD over to a SSD.
Form factor: 2.5-inch drive available in 7.0mm with adapter to fit in 9.5mm systems.
Silent: runs silent and cool.
Interface: SATA Rev. 3.0 (6Gb/s) – with backwards compatibility to SATA Rev. 2.0.
Capacities: 960GB.
Power Consumption: 0.08 W Idle / 1.28 W Avg/ 1.16 W (MAX) Read / 5.39 W (MAX) Write.
Storage temperature: -40°F to 185°F (-40°C to 85°C).
Operating temperature: 32°F to 158°F (0°C to 70°C).
Dimensions : 69.8mm x 100.1mm x 7mm.
Weight: 92.5g.
Vibration operating: 2.17G Peak (7–800Hz).
Vibration non-operating: 20G Peak (10–2000Hz).
Life expectancy: 1 million hours MTBF.
Warranty/support: 3-year warranty with free technical support.
Total Bytes Written (TBW): 2,728TB 2.56DWPD8.
Baseline Performance:
Compressible Data Transfer (ATTO) – 450MB/s Read and 450MB/s Write.
Incompressible Data Transfer (AS-SSD and CrystalDiskMark) – 500MB/s Read and 440MB/s Write.
IOMETER Maximum Random 4k Read/Write – 40,000 IOPS and 20,000 IOPS.
Random 4k Read/Write – 27,000MB/s Read and 10,500MB/s Write.
PCMARK 8 Storage Bandwidth Score – 4,700.