ADATA is completing its transition into 3D NAND this month with the launch of its new XPG SX950 SSDs. These new drives are loaded with up to 960GB of 3D MLC NAND paired with an SMI controller along with SLC Cache and DRAM Cache Buffer to maintain speeds for extended periods of time in demanding scenarios.
The Adata XPG SX950 SSDs will be coming in 240GB, 480GB and 960GB capacities with up to 560 MB/s sequential read speeds and up to 530 MB/s sequential write speeds, along with up to 90,000 4K read/write random access performance. The use of 3D NAND helps provide some of the speed bump as it is roughly ten percent faster than 2D NAND. This also means the SX950 should be a nice upgrade from the previous SX930.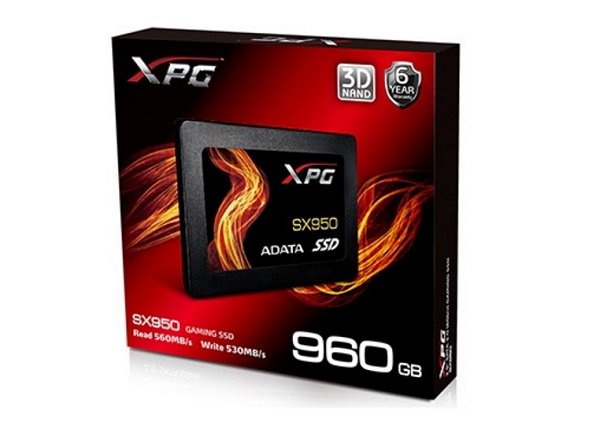 ADATA is pushing this as a high performance gaming drive too, thanks to the SMI controller and firmware, which has been tested in demanding PC gaming situations. This drive can provide swift texture and asset streaming for large open world games and load levels faster. The SX950's firmware is also said to have data shaping algorithms to help prolong the life of the SSD.
We don't have exact pricing information just yet but expect these SSDs to hit store shelves soon, complete with a six year warranty.
KitGuru Says: How many of you still need to upgrade to an SSD? I've been using a 2TB SSD for my game installs for a year or so but it certainly wasn't a cheap investment.