Crucial's latest SSD, the P1, is the company's first consumer drive with an NVMe interface and the second Crucial drive to use 3D Quad-Level Cell (QLC) , 4-bit per cell NAND (the first was the 5210 ION SATA enterprise drive). It uses a combination of Micron NAND and a Silicon Motion controller.
At launch, the P1 range consists of just two capacities, 500GB and 1TB, but there is a flagship 2TB drive coming soon. Looking after the Micron 64-layer 3D QLC NAND is a Silicon Motion SM2263EN 4-channel controller, and in the case of the 1TB drive there is 1GB of DDR3 cache.
Crucial quote Sequential performance figures for the 1TB drive as up to 2,000MB/s for reads and up to 1,700MB/s for writes. The 500GB drive is rated at 1,900MB/s reads and 905MB writes, while the 2TB drive is listed at the same 2,000MB/s reads as the 1TB drive but with a faster write figure of 1,750MB/s.
Random 4K performance for the 1TB drive is stated as up to 170,000 IOPS for reads and 240,000 IOPS for writes. The 500GB drive is rated at 90,000 IOPS for reads and 220,000 IOPS for writes, while the 2TB drive has a 250,000 IOPS figure for both reads and writes.
Crucial quotes an endurance figure for the 1TB drive of 200 TBW which works out at around 1,093GB of writes per day for the total length of the 5-year warranty Crucial backs the drive with.
Quad-Level Cell NAND
After SLC (1 bit per cell), MLC (2 bits per cell) and TLC (3 bits per cell), comes the latest leading edge NAND technology, Quad-Level Cell (QLC) with 4 bits per cell.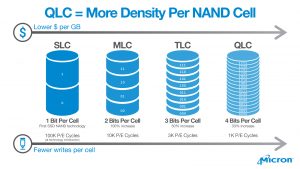 While QLC NAND has obvious advantages in terms of storing more bits of data per cell (an increase of 33% over TLC ) and at lower cost, there are a couple of significant hurdles to overcome in terms of performance and endurance.
Performance
When NAND is programmed or erased, electrons are sent through an insulator by the application of a voltage. The location and number of electrons is the determining factor for when the current will flow between a source and a sink (voltage threshold) which determines what combination of 1s and 0s (data) is stored in the cell. With SLC NAND this is pretty straight forward as only a 1 or a 0 is being stored. QLC NAND ups the ante considerably as now there are four 0 or 1 states per cell, giving a total of 16 different possible combinations per cell which in turn means 16 different voltage levels to control.
As more data is able to be stored in a cell there is a corresponding drop in performance as the cell contents must be read before any writes can commence as the previous bit value in the cell must be recognised first. The corresponding changes in voltage to enable the change in bit state causes instability in the surrounding cells.
With QLC NAND's 16 different voltage levels this needs very careful programming to ensure adequate precision during read and write operations. QLC NAND supporting controllers have to have high level error correction capabilities to help overcome these problems, but all these actions mean slower NAND access than previous generations of NAND.
To offset the drop in performance due to the length of time it takes to program a QLC NAND block, QLC drives are going to be relying on SLC caching technology a lot more than even TLC NAND does to raise the performance levels of the drive up to what you might expect of an NVMe drive.
Endurance
Every time data is written to NAND, the cell gets slightly damaged which is why NAND has a finite life or endurance. SLC has a life of around 100,000 P/E (program/erase cycles), MLC 10,000 P/E and TLC approximately 3,000 P/E (thanks to manufacturers striving to keep improving the life of TLC NAND). When QLC was first mooted, the endurance figure often quoted was just 100 P/E, a figure so low it caused many people to question whether the technology would ever see the light of day.
As with TLC NAND, manufacturers have been working hard to get the P/E figure of QLC NAND up to more usable levels, Micron currently quotes a figure of 1,000 program/erase cycles.
Physical Specifications:
Usable Capacities: 1TB
NAND Components: Micron 64-layer 3D QLC NAND
NAND Controller: Silicon Motion SM2263
Cache: 1GB DDR3
Interface: NVMe 1.3 PCIe 3.0 x4
Form Factor: M.2 2280
Dimensions: 22 x 80 x mm
Firmware Version: P3CR010.
Be sure to check out our sponsors store EKWB here