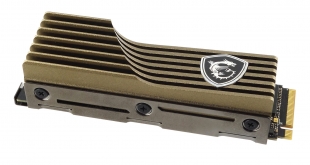 MSI's Spatium M480 is the company's first SSD offering, having announced its entry into the storage market earlier this year. Based around a Phison E18 controller and 96-Layer 3D TLC NAND, the 2TB model is (at the time of writing) the largest capacity drive in the M480 series.
The Spatium M480 model line consists of three capacities; 500GB, 1TB and 2TB. At the heart of the drive is a Phison PS5018-E18 controller, the go-to controller for most of the 2nd generation Gen 4 drives we've seen to date. For the M480, MSI has paired the controller with Micron 96-layer 3D TLC NAND which gives the Spatium M480 some impressive Sequential performance figures.
The official Sequential ratings for the 2TB drive are up to 7,000MB/s for reads and up to 6,800MB/s for writes. The 1TB drive is rated at the same 7,000MB/s for reads but with a lower write speed of up to 5,500MB/s. The entry 500GB model makes do with up to 6,500MB/s and 2,850MB/s for read and writes respectively.
Random performance is quoted as up to 650,000 IOPS for reads and up to 700,000 IOPS for writes for the 2TB drive, up to 350,000 IOPS and 700,000 IOPS for read and writes respectively for the 1TB model and up to 170,000 IOPS read and up to 600,000 IOPS writes for the 500GB model.
The HS SKU of the M480 comes with a chunky bronze-coloured aluminium stacked fin heatsink which adds 18mm to the overall height of the drive which may be a bit problematic using the drive with compact PCs.
Endurance for the 2TB drive is stated at 1400TBW and MSI back the drive with a 5-year warranty. Power consumption for the 2TB drive is listed as 8.2W for maximum operating power, 22mW for idle power and 3mW in low power mode.
Physical Specifications:
Usable Capacities: 2TB.
NAND Components: Micron 96-layer 3D TLC NAND.
NAND Controller: Phison PS5018-E18.
Cache: 2GB DDR4.
Interface: PCIe 4.0 x4, NVMe 1.4.
Form Factor: M.2 2280.
Dimensions: 80 x 22 x 2.15mm (80.4 x 23 x 20.40mm with heatsink).
Firmware Version: EIFM21.1
Be sure to check out our sponsors store EKWB here