The front of the box has an image of the drive on it, along with its capacity and the fact it supports Windows, Mac and Android. The rear of the box has bullet points about the drives performance, build materials, drive size and weight and the fact the drive is built to survive drops of up to 2m and finally notes about the drives security. Under these bullet points is a list of the box contents and then some multilingual marketing notes.

The T5 is tiny, measuring just 57.3 x 74 x 10.5mmm weighing in at 51g. The chassis is all metal and is a rounded design that feels just right when you pick it up. There are two finishes for the T5, the 250GB and 500GB get a Blue finish while the 1TB and 2TB get a more traditional Black colouring.
Samsung has built the T5 to survive the rigours of everyday use, its internal shock resistant frame can withstand a drop up to 2m and up to 1500g of force.

The interface is a USB 3.1 Gen 2 Type-C supporting 10Gbps transfer speeds. Just along from the port is an indicator LED which glows blue when the drive is attached, blinks blue when the drive is actively reading or writing and turns red when it is safe to remove the drive or the PC that the drive is plugged into is in sleep mode.
Four screws (two each end) hidden under the end stickers hold the PCB in place. Two NAND packages, the Samsung controller and the 1GB LPDDR3 DRAM cache IC sit on one side of an mSATA daughter board.
The four 64-layer 3-bit TLC V-NAND packages (there are another two on the rear side of the board) are labelled K9DUGB8H1A.  The controller labelled S4LN062X01 is Samsung's MGX 2-core chip found in the Samsung 850 EVO.
The bundle is a simple affair with just single USB Type-C male to Type-A male and a USB Type-C male to Type-C male cables and a quick start guide.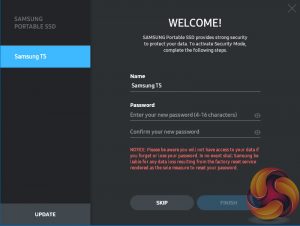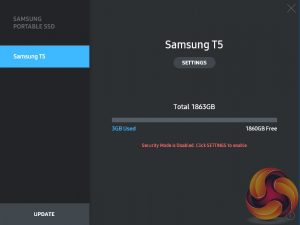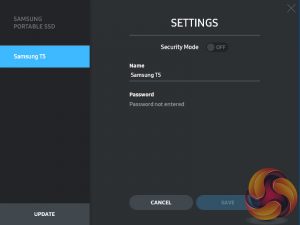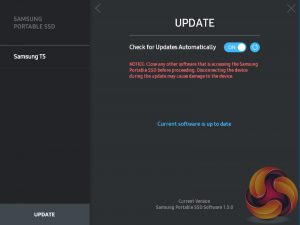 The software pre-installed on the drive simply allows the enabling of encryption protection of the drive. The software is supported by Windows, MAC OS and Android devices.