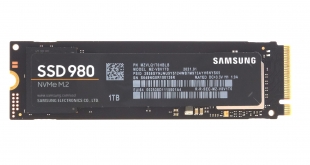 Samsung's latest addition to its SSD ranks is the SSD 980, the long-awaited successor to the very popular SSD 970 EVO. A PCIe Gen 3 NVME drive, the SSD 980 is Samsung's first DRAM-less design. Priced at the £120 mark for the 1TB model reviewed here, can the SSD 980 live up to its predecessor?
The new drive comes in three capacities at launch; 250GB, 500GB and the flagship 1TB model we are looking at here. The SSD 980 uses a combination of 1** layer 3-bit V-NAND (TLC NAND) and an in-house Pablo controller.
Official Sequential performance figures for the 1TB drive are up to 3,500MB/s reads and 3,000 for writes. The 500GB model is rated at up to 3,100MB/s and 2,600MB/s for read/writes respectively while the 250GB entry model has a read speed of up to 2,900MB/s with writes at up to 1,300MB/s.
4K random performance for the drive range is listed at both QD1 (1 thread) and QD32 (16 threads). The 1TB model is rated as up to 17,000 IOPS and 54,000 IOPS at QD1 for read and writes respectively and up 500,000 IOPS for reads and 480,000 IOPS for writes at QD32. The 250B and 500GB drives have the same 17,000 IOPS read figure at QD1 with the 500GB rated at up to 54,000 IOPS for writes and the 250GB drive 53,000 IOPS. At QD32 the 500GB drive is rated as up to 400,000 IOPS and 470,000 IOPS for read and writes respectively with the 250GB drive a fair way behind at up to 230,000 IOPS reads and 320,000 IOPS writes.
Samsung quote TBW endurance figures for the 1TB drive of 600TB with the 500GB model rated at 300TB and the 250GB 150TB. The drives are backed by a 5-year warranty.
Physical Specifications:
Usable Capacities: 1TB.
NAND Components:  1**-layer V-NAND 3bit MLC (TLC).
NAND Controller:  Samsung Pedro.
Cache: None DRAMless.
Interface: PCIe Gen 3.
Form Factor: 2280 M.2.
Dimensions: 80.15 x 22.15 x 2.38 mm.
Firmware Version: 1B4QFXO7.
Be sure to check out our sponsors store EKWB here