The ADATA SP610 512GB is very capable and while not outstanding in any key area it does offer great value for money when factoring in the overall performance characteristics of the drive.
This isn't the first time we have looked at the Silicon Motion (SMI) SM2246EN four channel controller and there is no doubt it performs well in a variety of situations, including when called upon to deal with both incompressible and compressible data workloads.
When we compare the SP610 512GB to other high performance drives available today, it performs well, but it does not dominate any of the benchmarks, sometimes resting mid table, below market leaders.
There is no doubt it will make an excellent foundation for a new system build, but there are so many competitors today that we feel the SP610 will get missed by many in a final purchasing decision.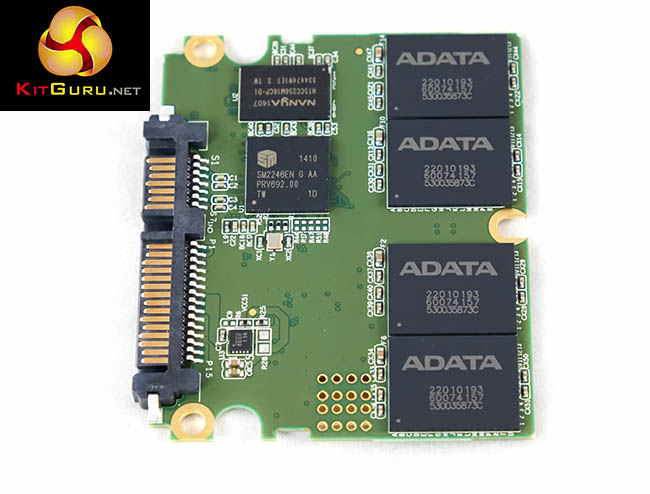 Much of the problem that ADATA still face is availability and basic brand awareness. They have yet to really effectively target the enthusiast audience, and we rarely see our readers discussing their products in open channels on our social media or forums.
The SP610 512GB Solid State drive for instance is not available in the United Kingdom through the usual channels such as Overclockers UK or SCAN, but we did find it at lesser known etailer Alternate in the UK for £172 inc vat. This it is a very competitive price point, even if compared against reader favourites such as Samsung's 500GB 840 EVO – which is retailing for around the £185 inc vat mark.
Discuss on our Facebook page, over HERE.
Pros:
compressible and incompressible equally strong.
4k random IOPS rates quite well.
sequential read performance close to real world limits of SATA 3 interface.
very competitively priced.
Cons:
UK availability is poor.
128GB and 256GB versions suffer from weak sequential write performance.
stiff competition in this sector.
Kitguru says: The ADATA SP610 512GB is a good all round Solid State Drive, but availability and brand awareness still plague ADATA in the UK.