It seems only fair to give OCZ credit for their recent activity in highlighting the reliability of their latest Solid State Drives. While many skeptics may argue their credibility is almost beyond repair it is worth bearing in mind that no other company has ever offered to send us five solid state drive from their production line 'to kill' … without any stipulations. If you are interested you can follow this rather interesting little experiment over HERE.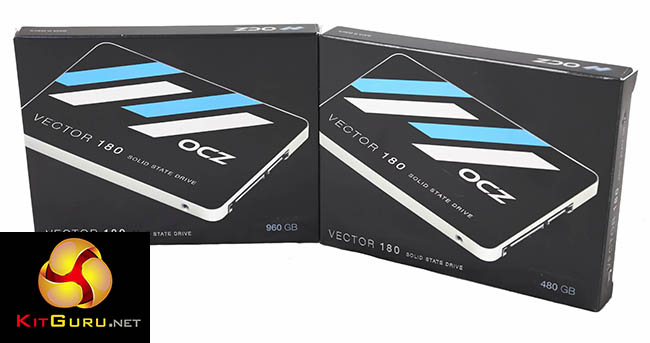 There is no doubt in my mind that the OCZ Vector 180 performs to a level that the discerning enthusiast user will demand. Our results highlight that on a pure performance level the Vector 180 rates within the top 10% of all the drives we have tested in the last 3 years.
The OCZ Barefoot 3 M00 controller with Toshiba A19 MLC NAND makes for a formidable pairing. The drive performs equally as well with incompressible and compressible data, and the IOPS performance is within the top 5% of all SATA 3 drives tested to date. This is a good drive to use in database intensive situations, such as within a workstation or server environment. The addition of Power Failure Management will be welcomed by all. This detects power anomalies and helps protect the SSD from 'bricking' while safeguarding at-rest data.

Pricing in the SSD sector is very important. The 480GB drive is due to ship at £214.99, the 960GB drive £404.99. These prices seem fairly competitive to me, although you can pick up the Samsung 500GB 850 EVO for £179.81 from Amazon. The Samsung 1TB 850 EVO has also recently been reduced in price, to £337.83. Samsung drives continue to be a firm favourite with our audience right now, based on reader feedback from our Facebook page. That said, we do feel the OCZ Vector 180 deserves some serious consideration from our audience, especially with the new ShieldPlus warranty system that the company have initiated.
Discuss on our Facebook page, over HERE
Pros:
incompressible and compressible performance is fantastic.
very strong IOPS performance.
Power failure management system in place.
using the latest high performance A19 NAND flash from Toshiba.
Cons:
intense price competition from the likes of Samsung.
Kitguru says: The Vector 180 should be making a final shortlist based on the performance results alone. The latest Barefoot 3 controller is very capable.