Last year, Oculus demonstrated a prototype for its own wireless headset, dubbed Santa Cruz. Developers excited at the prospect of the standalone headset can rejoice, as Facebook announced at its Connect event that it could be in their hands "next year," and will make use of new positionally tracked controllers.
Virtual Reality headsets originally entered the market sporting giant wires and cords, prompting many Oculus Rift and HTC Vive owners to build DIY ceiling mounts to simulate the freedom the VR was always intended to provide.
Oculus plan to enter the untethered VR market with its Santa Cruz headset, which ditches the wires along with the wired sensors by utilising four on-board cameras to conduct inside-out tracking.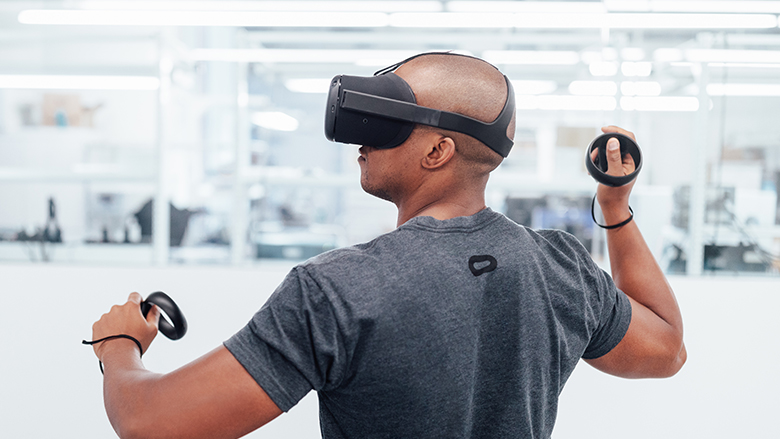 The first prototype of the standalone Santa Cruz headset strapped a full-blown mobile computer to the back of the user's head. Since then, the Oculus team has whittled down the sizing of these components to include full compute inside the front portion of the headset, behind the visor. So far, Oculus has kept specs hush, but the company "looks forward to sharing more updates on these products soon."
The new controllers are a significant addition to the new bundle, combining the functionality of the Oculus Rift and Touch into the new standalone category. Each peripheral is lined with infrared LEDs that correspond with the headset's on-board camera to position its user, eliminating the limitations of some other headsets on the market.
Oculus has yet to announce whether or not it will be compatible with Microsoft's Windows Mixed Reality, but many are holding out hope. Aside from the vague comment about coming into the hands of developers next year, it is uncertain as to when Santa Cruz will be commercially available. For those wanting to jump into the wireless VR market, Oculus has just announced the less powerful, but likely much cheaper untethered Oculus Go.
KitGuru Says: I can imagine such a small form factor will pose limitations on compute power, but offer much more versatility than the previous Rift designs. It would be nice to see the optional ability to plug it into a more powerful machine to experience the more demanding side of VR too. Are you excited for untethered VR headsets?