360 degree video is often the first look people get at "virtual reality," through Google Cardboard or similar, even if it is nothing of the sort. Lacking any form of interaction, it's completely passive, but perhaps not for much longer. HypeVR's volumetric 3D videos allow users to more in, out and around captured scenes.
Built upon Google's Tango platform the HyperVR system allows for volumetric 360 degree video, whereby video running at 60 frames per second can be navigated like a VR environment. In the demonstration video released by the developers, we see them walk around a 360 degree video, changing angles and perspectives, all without much of a hint of this not being a fully realised world.
[yframe url='http://www.youtube.com/watch?v=cEnhpRW_iUM']
Except it isn't, it's an entirely pre-recorded segment of video, but the developers have made it possible to use that video much like a VR world. This not only offers huge potential for new and immersive filmmaking, even beyond what we've seen with VR and 360 degree video so far, but could also mean entirely new types of games, built around pre-recorded sequences.
Anyone remember the act-them-out movie/games in Ready Player One? This is how we make that sort of thing a reality.
The filming process isn't easy though. While there are some impressive 360 degree camera rigs out there, HypeVR's system uses 14 Red Dragon, 6k cameras to make its system a reality, recording at 60Hz (though 90Hz is the plan for the future) all hooked up to a LiDAR scanner for depth sensing (thanks RoadtoVR).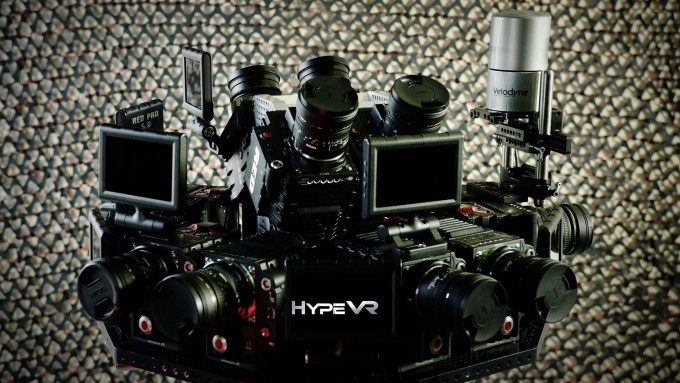 Of course there are limitations to the technology at this early stage. There are a couple of stutters in the video and occluded areas – such as the back of the surf board – could pose real problems, and how do you even get all of that uber-high definition data and positional information to consumer devices without the filesize being astronomical?
All of the problem aside though, the system holds a lot of promise and could usher in a new form of entertainment in the not too distant future.
Discuss on our Facebook page, HERE.
KitGuru Says: That camera system has to be one of the most expensive in the world, if not the most expensive. This will not be an indie filming technique for some time to come.