According to the founder of Epic Games, Tim Sweeney, the HTC Vive is outselling the Oculus Rift by a ratio of 2:1. Claiming that the reason for the greater success rate of the Vive is its open-platform design, Sweeney said he expects this trend to continue and that ultimately open platforms will dominate in the VR space.
Oculus was once the darling of the virtual reality world. The developer of early VR kits like the DK1 and DK2 and headed by then well-loved, VR evangelist, Palmer Luckey, Oculus rode a wave of popularity to its consumer release. However after backtracking, a higher than expected price and a very Apple-like stance on software stores, much of the Oculus good will evaporated throughout 2016.
That seems to be the case for developers too, as Sweeney was heavily critical of Oculus' strategy in his chat with Glixel. He's not just mindlessly hating on Oculus either, as Epic has provided a lot of support for Oculus and vice versa with the development and impending release of Robo Recall. However much like his dislike for the locked down Windows Store, Sweeney just does not like closed software ecosystems.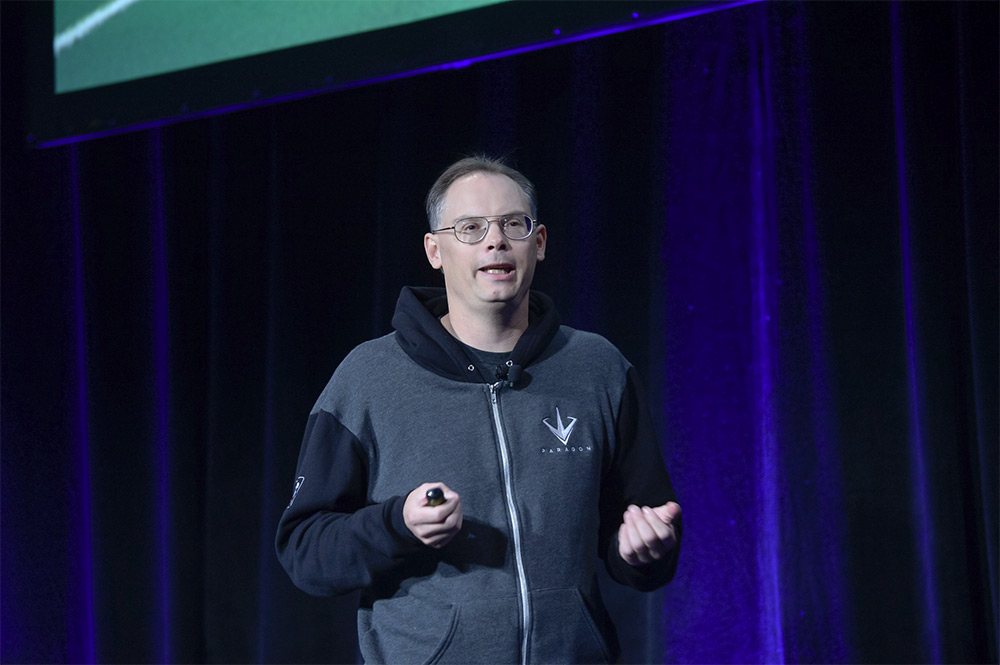 Sweeney shown here during his chat at GDC 2016. Source: OfficialGDC/Flickr
"I think it's the wrong model. When you install the Oculus drivers, by default you can only use the Oculus store," Sweeney said. "You have to rummage through the menu and turn that off if you want to run Steam. Which everybody does. It's just alienating and sends the wrong message to developers. It's telling developers: "You're on notice here. We're going to dominate this thing. And your freedom is going to expire at some point." It's a terrible precedent to set. I argued passionately against it."
He went on to highlight that the most successful games and apps were always multi, if not cross-platform. Tools designed for interaction and communication are only great if you can use them to talk to everyone he said.
Although he didn't provide hard numbers to show that the Vive is outselling Rifts, our own research into the UK marketplace offers evidence that should back it up. While you can find the Vive at many hardware stores – and OCUK alone has sold thousands, we were told – the Rift is only buyable from a few select outlets. For some reason, one of them is John Lewis.
Discuss on our Facebook page, HERE.
KitGuru Says: Even though the Rift is excellent, the Vive's open platform is a major reason I would still recommend it over its competitor.