Although the specifics of how Oculus VR's digital store and home-hub platform will work are still mostly unknown, we do know that it can support Facebook. Although unsurprising considering the social network is the parent company of the VR startup, this is something that could really separate Oculus' Rift headset from some of the other hardware out there.
Already available for the Samsung Gear VR, the Facebook integration allows owners of both an account on the social network, and an Oculus account, to link them together, making it possible to view 360 degree images and video within their headset, direct from their Facebook feed. You can even share your reactions to it, making comments and hitting that multi-emotion like button without taking the headset off (as per UploadVR).
This is an important realisation of Facebook founder, Mark Zuckerberg's dream, who described the original purchase of Oculus as the buying of a new "communication platform." He's right in many ways, as VR has the potential to open up new ways for people to talk to one another, on a whole new medium.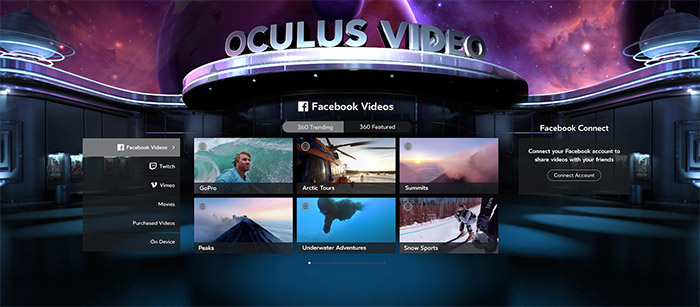 However this may worry fans of the Rift's original, gamer-centric focus, as it could mean it moves away from targeting gamers to a more general audience. This is a concern that has been present since the buyout though and is perhaps short-sighted, as gaming is only a very small part of VR's potential.
Virtual offices, virtual interactions and experiences with loved ones, new ways for world leaders to communicate face to face without spending millions on travel and security – there's a lot of benefits to the whole system beyond shooting one another.
Discuss on our Facebook page, HERE.
KitGuru Says: Shooting each other in VR is still going to be amazingly fun though. Let's not get ahead of ourselves.