Once again the HTC Vive looks set to steal the thunder of the Oculus Rift. With the latter headset's impending Touch release just a few weeks away, HTC has announced an upgrade kit for the Vive headset that makes it completely wireless. The kit will purportedly cost buyers around $220 (£175).
Ditching the wires is one of the most requested features for VR headsets as tripping over the cable or feeling its tug is a great reminder that you're still in a room and not fighting dragons on a mountain top.
The wireless kit bundles the receiver for wireless transmission and a battery pack which is said to last around an hour and  a half. A larger battery version will be sold in the future we're told and will fit into the user's pocket. Not quite as wireless as the base kit in that respect, but certainly more suited for longer play sessions.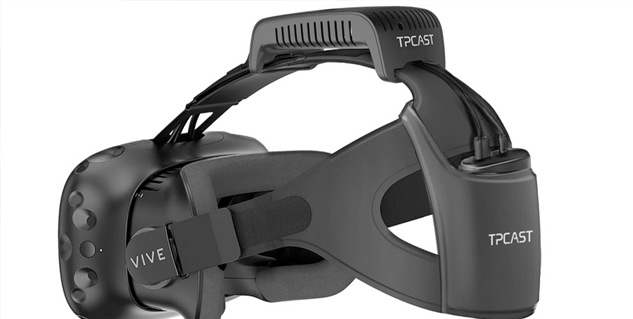 We've not been told exactly how it works yet and what the latency is like – it would need to be very low to be a truly viable upgrade – but the presumption is that it works rather well. Indeed if it wasn't, would HTC really want to sell it through official channels?
Developed by TPCast, the first third party company to be accredited as part of HTC's Vive X Accelerator program (thanks UploadVR), the wireless kit was shown off at a recent Alibaba event in preview form. While it's not quite ready for consumer release just yet, the hardware will be available to pre-order on HTC's Chinese website later today. It's expected to be ship out in Q1 2017.
Discuss on our Facebook page, HERE.
KitGuru Says: As soon as these are available for UK buyers, we'll make sure to get one so we can test it for you guys and let you know if it's worthwhile. If it does, it's going to make VR backpacks redundant very quickly.