Right now if you want to play the best VR titles, you will find yourself tethered to a PC, with bulky wires limiting your movement somewhat. Over the course of 2016, plenty of companies have begun showing off prototype Virtual Reality backpacks at tradeshows, eliminating the problem by having users physically wear their PCs. However, none of these early units were fit for market. MSI is changing that this year with the VR One, the first consumer-ready VR backpack.
The Tokyo Game Show is kicking off soon and in the build-up to it, a pre-show VR took place, at which MSI debuted the VR One backpack, weighing just 3.6KG, making it one of the lightest VR backpacks around.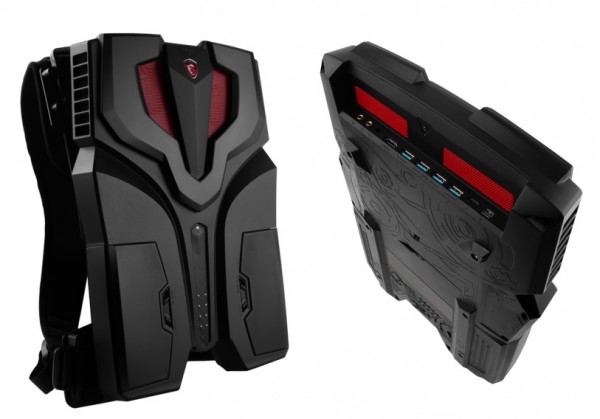 The VR One would allow HTC Vive users to walk around their virtual world free of dangling cables. It comes with two hot-swappable battery packs that can deliver 1.5 hours of game time each. Powering the show is an overclocked Intel processor and a GTX 10-series graphics card, though a specific model wasn't mentioned. Still, the new Pascal range packs quite a bit of power and all currently released models meet the minimum spec required for VR, so you should get a good experience.
Obviously, when you are wearing a high-power gaming system on your back, cooling is going to be important, so MSI has paid close attention to the interior design, implementing dual 9mm ultra blade fans and 9 heat pipes to transfer heat as quickly as possible. The whole thing is said to operate under 40dB too, so noise shouldn't be a huge issue.
The VR One is fully HTC Vive Optimized, so it comes with 1x HDMI port, 1 Mini DisplayPort and 1 ultra-speed Thunderbolt3 by Type-C port, along a bunch of USB ports to ensure you can connect everything you need. Pricing and availability information is not available just yet but that should come soon.
Discuss on our Facebook page, HERE.
KitGuru Says: A lot of companies are focussing on reducing the number of cables involved in setting up VR right now. The VR One backpack is one solution and it may be the most efficient for the time being. That is, until the wireless HTC Vive comes along.