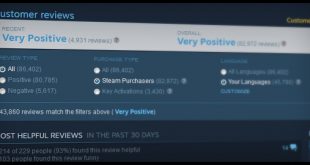 If you ended up with a Steam key for any other reason than you purchased it, your review will no longer contribute to the review score. This is part of a new update Valve has released to try and halt the practice of developers and publishers incentivising positive reviews with free keys and other giveaways.
From its own research of how keys are used and what scores those games ultimately receive, Valve found that in many cases free games resulted in above average review scores from that gamer. While that isn't always necessarily a deliberate inflation of the game's fun or playability, it's not an accurate representation of the titles and Valve is looking to change that.
"Steam keys have always been free for developers to give out or sell through other online or retail stores," Valve said in a statement. "That isn't changing. However, it is too easy for these keys to end up being used in ways that artificially inflate review scores."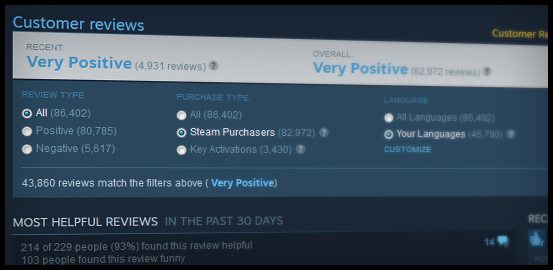 Moving forward although Steam key activators can still leave reviews for games, the score will not contribute to the overall rating for the game. You can still choose to read their reviews if you wish though – there will be an option to filter only those in the review section of each store page.
Valve is also going to be paying a much closer eye on developers which appear to employ alternative accounts or hidden sponsorship of gamers to illicit positive reviews. Repeat offenders will be punished.
Moving forward Valve also hopes to fix the issues where users can tag reviews as helpful, even if they aren't, to try and trick people into buying. Likewise it wants to curtail people upvoting funny reviews, which could also offer a false perspective of a game.
Discuss on our Facebook page, HERE.
KitGuru Says: These seem like valid changes and something that's certainly worth keeping an eye on, as the review system on Steam can have a big impact on a title's ability to sell.