Have you never overclocked your system ? Are you afraid of the BIOS? Would you like to get some extra free performance from your system? We sent BRIONY down to Overclockers UK HQ to get some time with Overclocking legend 8PACK. The purpose wasn't to use Liquid Nitrogen or to hit crazy benchmark figures but to get some hands on experience with 8PACK and to show Briony that using the basic functions in the BIOS really isn't witchcraft, and it shouldn't be scary either. It wasn't. It shouldn't be for you either. We recorded it all. Lose the fear. Let us know if you want more of these kind of videos on our Channel!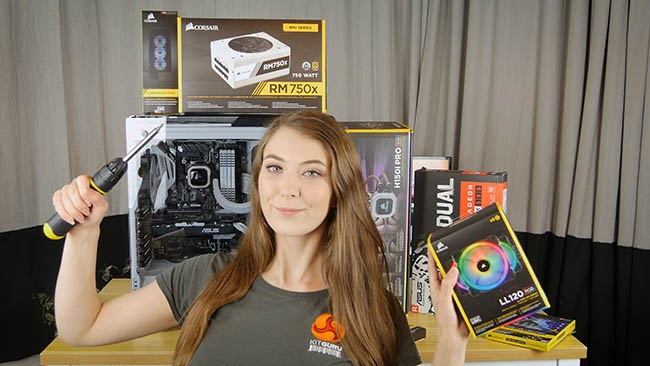 After recently building a new upgraded computer live on camera (Which you can watch HERE). Briony wanted to learn how to overclock the components in order to get the best performance. Who better to teach her than overclocking aficionado Ian '8Pack' Parry.
Watch via our VIMEO Channel (below) or over on YouTube at 2160p HERE
Overclocking is something Briony tried in the past and she admits it did scare her a little. Her only experience has been that of stumbling around in the BIOS before crashing my PC and resetting everything back to stock. We know a lot of readers never go into the BIOS, but why not try to get extra performance at no cost? We all want that.
KItGuru says: Briony is not ashamed to admit she wasn't comfortable with the BIOS at all, but she will be overclocking her Core i7 7700k soon and updating some video content showing what she learned from 8PACK