Microphone test:
The microphone is clear and comes through at a good volume. It should be good enough for communicating in game or chatting via applications like Skype.
3D Mark testing: 
For this test, we ran the Asus ROG STRIX GL503VD through Time Spy Extreme, Time spy, Fire Strike, Fire Strike Extreme and Fire strike Ultra. The laptop was on charge and the power mode was set to high performance for the duration of the tests. Below shows the results for the overall score.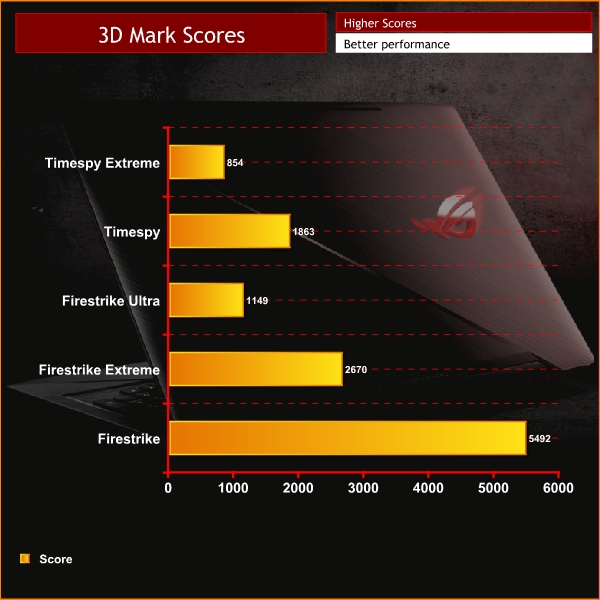 The results aren't hugely impressive but this is expected from a more budget gaming laptop. However the results show it should still have enough power to run most games on the 1080p screen.
The below graph shows the individual results for the GPU and CPU.
The Intel i5-7300HQ delivers strong performance when it comes to Physics during the Firestrike tests. And continues to outperform the GPU in overall performance when it comes to the Timespy tests. Overall a very capable CPU for general tasks and 1080p gaming.
The 4GB GTX 1050 performs well in the Firestrike test at 1080p however the lower graphics scores in the other tests shows that it lacks power at higher resolutions. This isn't a  huge problem as the GL503VD has a 1080p screen. Overall the individual results show that the CPU outperforms the GPU and that this laptop would benefit from a more powerful GPU to pair alongside the i5 processor.
Temperatures and noise levels:
To test the cooling performance of the ASUS GL503VD we ran AIDA64 for 10 minutes in order to obtain the temperature when the PC components are under extreme stress at 100% load. To ensure a correct temperature reading of the GPU we also monitored the temperatures while playing our 3 tester games. We measured fan noise levels using a sound level meter while the Laptop was idle with no programs open and then while it was being stress tested with all the fans at full speed.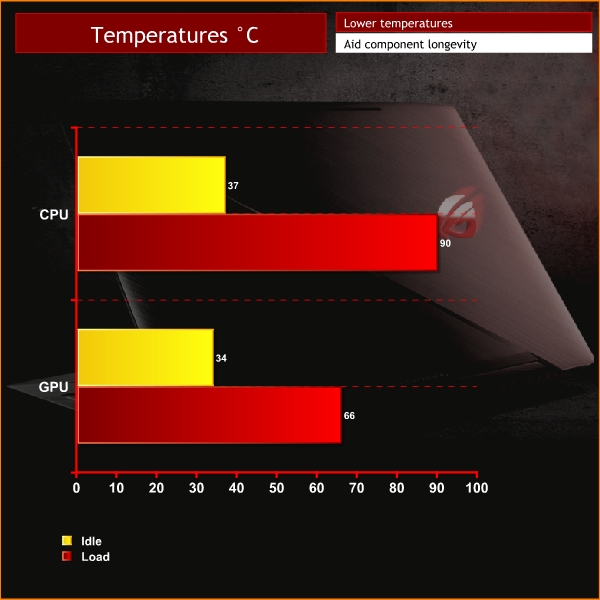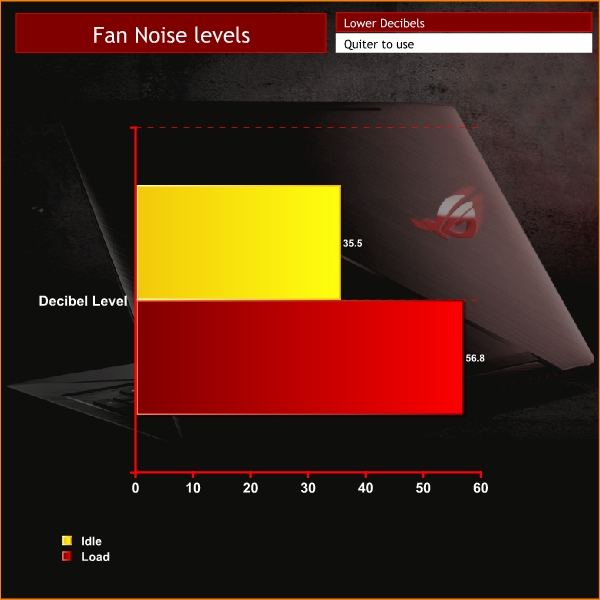 The cooling performance on this laptop proved to be sufficient but loud. You can barely hear the fans spinning while idle but the noise levels are far from quiet under load with a maximum decibel level of nearly 57 dBA.
Idle temperatures are very acceptable for a laptop. However this is a gaming laptop so it's likely that potential buyers will be pushing it to the limit on a regular basis.
The GPU stays at a very cool maximum temperature of 66C throughout our tests however the same can't be said for the CPU. At 90C there's no sign of throttling with the clock speed sitting at 3.1ghz and many laptops do hit similar temperatures. However I think there is definitely room for improvement and this laptop would benefit from a quieter more efficient cooling solution to improve the CPU temperatures.
Battery Life:
To test battery life we used the creative level benchmark on PCMark8 which is designed to test mid to high end notebooks and desktops. This test is demanding when it comes to computational requirements and although artificial it is likely to simulate the sort of stress the laptop would undergo during a good gaming session. The laptop was set to best performance mode and the screen brightness to 50%.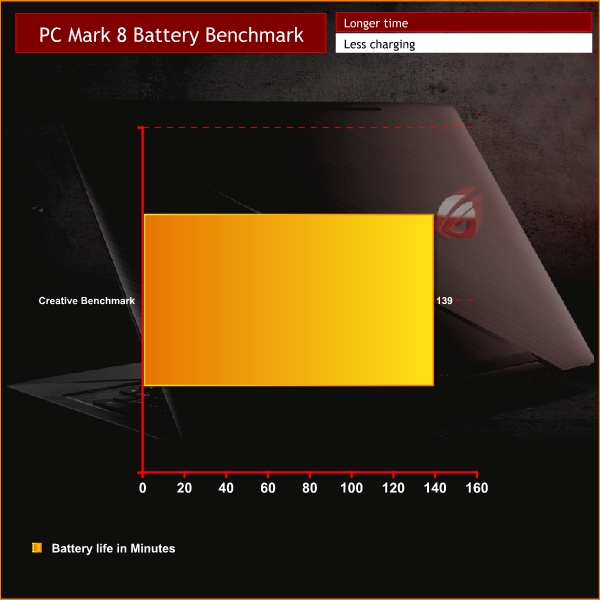 The battery life on this little gaming laptop is certainly not bad. PC Mark 8 showed the laptop battery should last nearly 2.30hrs. In a real world situation this would equate to about 4/5 hours of use. After using this laptop for a while this result seems spot on. It's far from impressive but should be enough for casual gaming on the go. The power brick isn't too offensive either so it can always be carried with the laptop.
Gaming performance:
We used the ASUS GL503VD to play 3 different popular and graphically demanding games to see if it can achieve acceptable FPS. The laptop had the charger connected and the power mode set to high performance. All the games were tested at 1920 x 1080 resolution with different graphics quality settings. We opted to test high and low settings as this laptop features a GTX 1050.
Rise of the Tomb raider is an action adventure game with many different environments and immersive landscapes making it a useful way to test this Laptops gaming performance. We also included the screenshot results from the in game benchmark.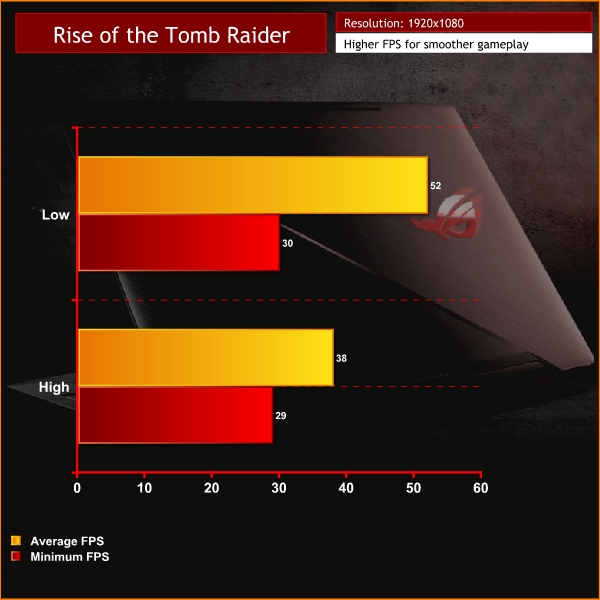 Far Cry 5 is the most recent release we tested on this laptop. The gigantic open world of Hope County has plenty of beautiful scenery to test how well this laptop performs on a brand new AAA game. We also included screenshots of the benchmark results.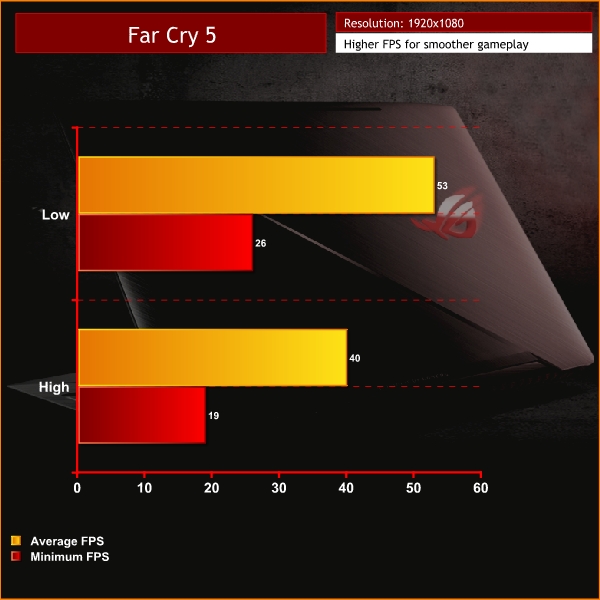 Tom Clancy's Ghost Recon Wildlands is a game with a superb open world environment. The beautiful scenery of mountains, forests and deserts requires a lot of GPU power to render making it very demanding game that is perfect for testing this laptop's gaming performance. We have also included screenshots of this games very handy inbuilt benchmark.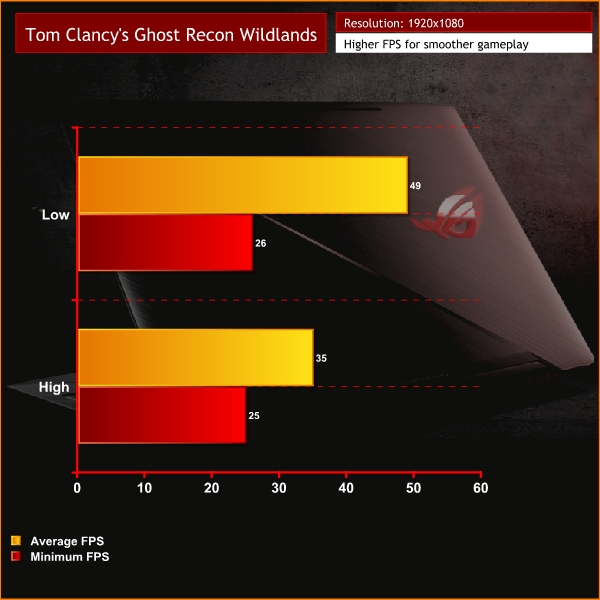 The results from our games testing show that even though this laptop is only packing a GTX 1050 it is still capable of running the latest AAA titles on it's 1080p screen. If you're someone that wants a stable 60fps then this laptop isn't quite powerful enough but it can achieve an average of at least 30fps even on high settings in all our tester games.