We think the Asus ROG Strix GL503VD is an attractive well built laptop with it's sleek design and brushed metal lid. The Republic of gamers branding isn't over done and there are only a few subtle hints that this is a gaming laptop. The 15.6″ LED screen is pretty standard with a 1080p resolution and 60hz refresh rate but the colour accuracy and brightness make it one of the stand out features. Using this laptop is a pleasant experience thanks to the responsive touch pad and a RGB keyboard with a decent tactile feel.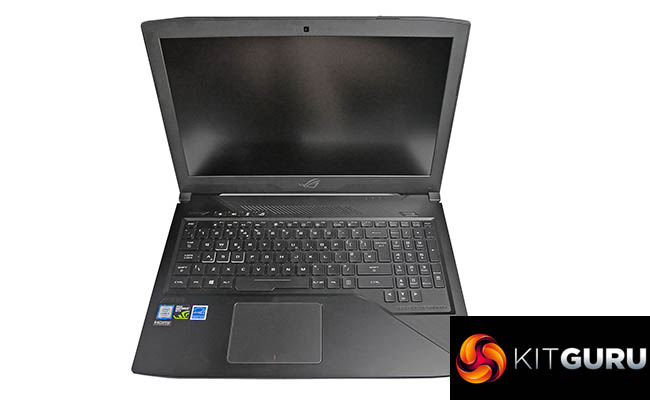 This budget laptop is far from being the most powerful with the i5 7300HQ & GTX 1050 not being quite powerful enough to run the latest games we tested on 60fps but we think it will easily run less demanding games. There's only 8GB of RAM in this laptop so the hardcore multitaskers amongst you are likely to run into problems, thankfully the panel on the back allows for an easy upgrade if you're willing to buy the extra RAM.
The major let downs are the fan noise and CPU temperature with the laptop getting loud and hot under load during our tests. The maximum 4 hour battery life means this laptop can run out of stamina pretty quickly but the power brick is small enough to charge this laptop on the go.
The GL503VD has its flaws but for a gaming laptop at this price point it's definitely worth considering.
Pros:
Aesthetically pleasing
Thin and portable
RGB keyboard feels and looks good
Acceptable gaming performance
Easily to upgrade RAM & Drives.
Cons:
Loud fan noise
CPU can get pretty hot under load
Could do with more than 8GB RAM
Poor Webcam
The GL503VD-FY108T model we reviewed can be purchased from PC World here for £799.99 
Kitguru says: The GL503VD isn't perfect but it overall it is a well built attractive laptop suitable for gaming on a budget with a good balance of portability and performance.