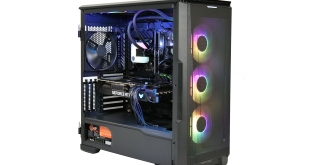 Getting into custom built PCs can be daunting for newcomers, with so many different components to choose from, it can be difficult to know where to start. Overclockers UK is aiming to make life easy with its new range of Spectra Gaming systems. These are all prebuilt and preconfigured, taking all the work out of getting a new gaming PC, with a range of systems aimed at different price points and levels of performance. Today, we review the top of the line Indigo model, retailing for £2500.
The Overclockers UK Spectra Gaming range is designed for people looking to get into PC gaming, or those who just want a solid gaming computer, without wanting to get right into the nitty gritty by speccing out the entire build. Instead, OCUK is trying to make things easy by focusing on the core spec of the CPU and GPU, recommending different combinations (from across their range) for different use cases.
There's even a very quick quiz you can take on their website, which asks you what games you want to play, at what resolution, and at the end it recommends one of their new prebuilt systems depending on the spec you need.
The range starts at the low-end, with the Crimson system costing under £600, while we have the flagship Indigo model, priced at £2500. This boasts an i9-12900KF, RTX 3080 and 32GB DDR4 memory, alongside a 1TB NVMe SSD.
Specifications
Brand: Spectra Gaming
Model: Indigo Pre-Built Gaming PC
Motherboard: Intel Z690 DDR4 ATX Motherboard
Processor: Intel Core i9 12900KF 3.20GHz Processor
Dedicated Graphics: NVIDIA GeForce RTX 3080 OC Graphics Card
Case: Phanteks Eclipse P500 Air ATX Case (Satin Black)
RGB Accessories: Digital RGB LED Strip – Combo Set
Power Supply: 850W 80 Plus Bronze Power Supply
Primary Storage: M.2 1TB SSD
RAM: 32GB (2 x 16GB) DDR4 3200MHz Dual-Channel Kit
Operating System: Windows 11 Home 64-bit DVD
Water Cooling: AIO 360 DRGB CPU cooler, LGA1700 upgrade kit
Getting into the design and build of the Indigo then, we'll start with the case, which is the Phanteks P500A, where the A stands for 'Air', and we have the satin black colourway. Being the airflow model, we find a completely meshed front panel, allowing tons of cool air to be drawn into the system.
OCUK has put the liquid cooler's radiator at the front here, with three RGB fans intaking and pushing air through the radiator. The liquid cooler itself is the EK-AIO D-RGB 360mm, with a smart-looking RGB CPU block and braided tubing…however this discussion of individual components brings me onto one of the key points of the Spectra range.
If we look at the Indigo's spec sheet, as shown above,  it is deliberately vague, with no mention of specific manufacturers or models. The AIO is just listed as a 'AIO 360 DRGB CPU cooler', for instance, while the SSD is listed as 'M.2 1TB SSD'.
We asked OCUK about this and they told us it is very much deliberate as they are trying to take the focus away from specific models or SKUs, and instead keep the focus on the core spec to keep things easy for those who may not be familiar with all the different NVMe SSD options or which exact liquid cooler would be best. That also means the spec is not configurable, so you can't chop and change different parts on their site.
OCUK also told us that this strategy allows them to swap out certain parts that may go EOL or out of stock without having to make a brand-new listing for the PC every time. If you're concerned about this, OCUK will always try and go for as much of a like-for-like replacement as possible, so the 360mm EK RGB AIO wouldn't be replaced with a bog-standard OEM model for instance – it would always be a similar RGB SKU, trying to match the overall performance, size, and aesthetic.
Just before moving on to look at the rest of the components, it is just worth confirming the airflow setup in the Indigo. We already mentioned the three radiator fans intaking at the front of the chassis, while there's one 140mm in the roof and another in the rear of the case, both set as exhausts.
As for the motherboard, OCUK has gone with the ASUS TUF Gaming Z690 Plus WiFi D4. It's proven to be a solid Z690 board in my testing and has not given me any cause for complaint, and as we show in the video, it runs the 12900KF at 4.9GHz as expected without drawing a ton of power. The 'D4' in the name is also important as it means the board uses DDR4 memory, a smart decision from OCUK in my opinion as DDR5 is still more expensive and is unlikely to be of much benefit to the type of buyer considering a system like this.
The memory in question is offered in the form of 2x 16GB sticks of TeamGroup T-Force Vulcan Z. The kit is rated at 3200MHz, which is fine, but the timings are quite loose at 16-20-20-40, and that is a bit disappointing to see as other kits with tighter timings are available at more or less the same price.
As for storage, the only drive in the system is a 1TB NVMe SSD, installed underneath the motherboard's SSD heatsink. Taking that off reveals it is a WD SN850, a very fast NVMe drive we have reviewed in the past, though for £2500 I would have hoped for more storage – a 1TB driver will fill up fairly quickly, so an extra 1-or-2TB 2.5in SATA SSD would have been great and they don't cost much these days.
In terms of the graphics card, do remember that the specific model may vary, but our model has the the ASUS TUF Gaming RTX 3080 OC edition. I've reviewed this one myself and it's a quality model and the RTX 3080 is still a very fast GPU at this point in 2022. I did notice a bit of sag however, it's nothing terrible but the card does droop slightly towards the end, so maybe OCUK could have installed a bracket there to support it, but it's not awful.
Then we come to the PSU, which is another area of discussion. On the spec sheet, OCUK lists an '850W 80 Plus Bronze' unit will be used, but for me that's just not good enough for a high-end system like this. I'm not saying it won't work or that it will necessarily cause any issues, but 80 Plus Bronze in a £2.5K system just looks poor in my opinion – I'd say 80 Plus Gold should be the minimum here, and you really don't want to cheap out on a PSU, especially with this sort of spec.
The specific model we have is the Seasonic B12, and a quick search on OCUK shows it's actually discounted to £65. There is, however, a Seasonic G12, which is 80 Plus Gold, and that is on offer at £80 – it's hardly any more expensive despite the big step up in efficiency, so for me that is a mis-step from OCUK. Again, I had no issues with my unit and you do still get the standard 3-year warranty on these systems, but for a high-end build like the Indigo, I'd definitely expect a lot more here.
That's also my thinking when looking at cable management round the back of the PC. It's certainly not the worst I've ever seen, but it doesn't look like OCUK went to great effort to keep everything as tidy as possible. The CPU power cables, for instance, haven't even been tied down and are just hanging loose. It works, everything's plugged in correctly, and the side panel goes on without issue, but it is just not showing a huge amount of care in the appearance which I personally would find disappointing if I spent this much money on a gaming PC.
Confirming the core spec with CPU-Z and GPU-Z, we can see the Intel i9-12900KF, which boosts to 4.9GHz on the P-cores during sustained loads. The 32GB DDR4 memory offers 16-20-20-40 timings, while the RTX 3080 comes factory overclocked, with a 1785MHz boost clock.
Be sure to check out our sponsors store EKWB here