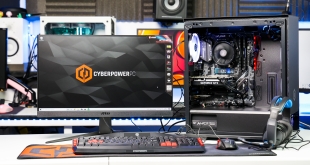 Here at KitGuru we love testing the most advanced components and prebuilt systems on the market but that's not always what everyone is after. Some people are yet to be fully converted to the 'PC master race' and the most expensive options can scare off potential PC gamers when they see the price compared to game consoles. That's where Cyberpower jump in with their latest offering, the Ultra 33 bundle, a complete setup including a gaming PC, a monitor, keyboard, mouse mat, mouse and headset, all for only £899. Can it really be any good? Let's find out!
Spec:
Cyberpower Auron Mid-Tower OEM Case with ARGB fans and an external RGB remote
AMD Ryzen 3 3200G – 4-Core 3.6Ghz, 4Ghz turbo
AMD Ryzen Wraith CPU cooler
Palit GeForce GTX 1650 GP 4GB
MSI B450 Tomahawk Max II
Corsair Vengeance LPX 2x8GB 3200Mhz RAM
WD SN550 1TB NVME
InWin A45 450W 80+ PSU
N300 Wireless adapter
Windows 10
5 years labour, 2 years parts, 6 months collect and return plus life time tech support warranty
 Peripherals:
MSI G241V Gaming Monitor
Epos GSP 300 Headset
Cyberpower Gaming Mouse, USB Keyboard and XXL Mouse Pad
For a budget system these specs look great, the parts chosen pair nicely and it's great to see that WD SN550 1TB NVMe drive there. It acts the boot drive, which is why the system boots so quickly, but there's plenty of room for games and the games will certainly benefit from running from an NVMe SSD rather than a slower SATA SSD or HDD. Our RAM is reasonably fast and we're still getting 16GB here too, which is ideal for gaming. Yes, the 4GB GTX 1650 is a budget card… but this is a budget system and should still be capable of playing games with good performance with some graphics options tweaked.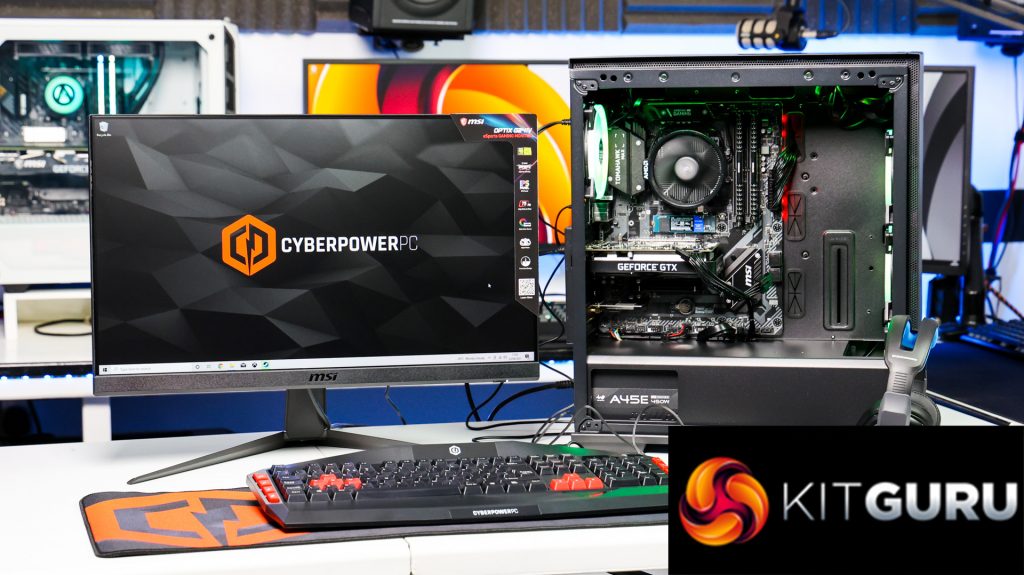 One thing that caught our eye and had us slightly worried was the InWin power supply. It's only 80+ rated, which means it's not even 80+ Bronze efficiency. We contacted Cyberpower regarding this and, as expected, we were told it was a strictly budgetary decision – but the company was happy to share details of the return rate:
"This particular model of the last 5,000 units used during 2021 we've had to replace x59 of them (as of today) so we're looking at a return rate of just under 1.2%, so they're a solid PSU for the budget ranges. If I compare this to the RM750X from Corsair, our return rate for that is just over 1.5%".
That is definitely a reassuring statement! Not only that but remember you do have warranty here too! 5 years labour, 2 years parts, 6 months collect and return plus life time tech support warranty.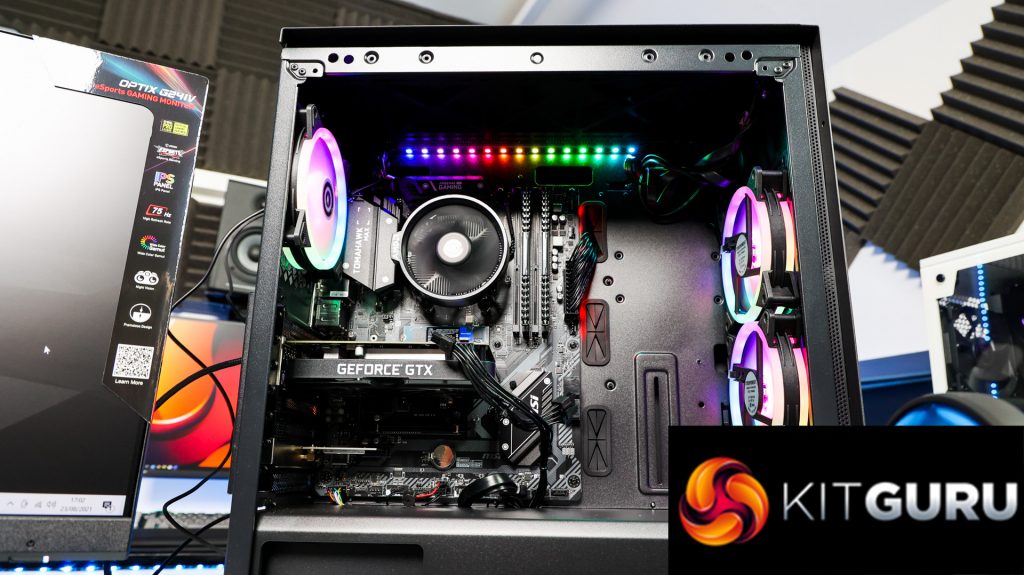 Build-wise, everything looks to be in order too, it has been tidily cable managed inside with plenty of room for airflow too. I like the inclusion of the RGB fans and there's even an RGB LED light strip across the top as well, all of which can be adjusted via the included remote.
Be sure to check out our sponsors store EKWB here