Last month, like most months, we held a competition with one of our select partner companies to give away a fantastic prize. In this case, a Chillblast Fusion Barbarian full system, featuring an i5-4690K, Corsair H75 watercooling loop and a Gigabyte GTX 970 GPU. All in all it's worth over £1,100, making it one of our biggest prizes of the year. Over 25,500 of you entered in the end, but of course we could only pick one winner and that person has now been chosen.
To be in with a chance of winning this fantastic prize, we asked you the question: What was the name of the group of Gigabyte products that the Chillblast Fusion Barbarian is based on?
The answer was of course, G1 Gaming and a number of you were correct, so we had to pick a name out of the hat. That name was:
Harry Burr, congratulations.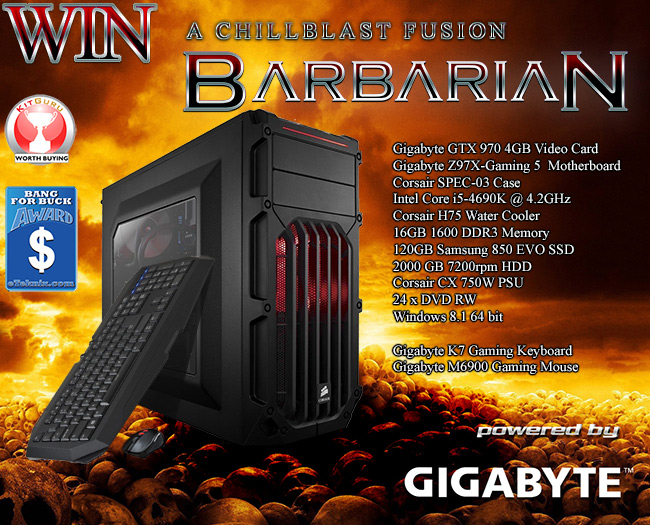 We've contacted Chillblast with your details and they'll have the system on its way to you in short order. Let us know how you get on with it – and a few pictures wouldn't go amiss either!
For the rest of you, sorry that you missed out this time, but don't forget that competitions like this are par for the course with KitGuru. Keep an eye on our Facebook page, as we give away brand new games every week to a lucky reader and hardware is almost always up for grabs on the main page.
KitGuru Says: Thanks to everyone that entered. Keep reading KitGuru and we'll have more prizes up for grabs soon.